Welcome!
I am Jack, the founder of Cancha. Our Blog is all about travel, adventures, and sporting experiences like no other, with some helpful guides along the way to get the most out of your favourite activities. Follow along for all our adventures.
Read our story
Our Mission
We believe in pursuing your passions and seeing more of the world, because every adventure is unique. Shop the world's most customizable travel bags, made for athletes, by athletes. 
Shop The Range
---
25 Best Pickleball Bags to Store and Carry Your Gear
Do you love playing pickleball? If so, you know that you need a good bag to store and carry your gear. Not just any old bag will do! You need something that is sturdy and can hold all of your equipment. That's why we put together this list of the 25 best pickleball bags on the market today. Whether you are looking for a Cancha Bag, a Franklin pickleball bag, or a pickleball sling bag, we have you covered. Keep reading for our top picks!
What should I look for?
Pickleball bags should always be selected carefully and only the best one is suited to pro-pickleball players. First, you have to consider how much stuff you put in your bag to carry all your gear. Considering the compartment, your pickleball bag must also be made from durable materials and breathable mesh to safely carry your stuff.
Material is important in choosing as you need a pickle ball bag that has great durability and can withstand being carried around or stored inside a hot car. A sturdy bag like a nylon bag is an acceptable choice. Also, an adjustable shoulder strap is a plus.
There are a lot of various pickleball bags on the web market and it can be exhausting to go through each of them at first. But, do not worry as we have made a list for you to check and help narrow down your choices.
Let's start first by getting to know the types of pickleball bags!
Pickleball Duffle Bag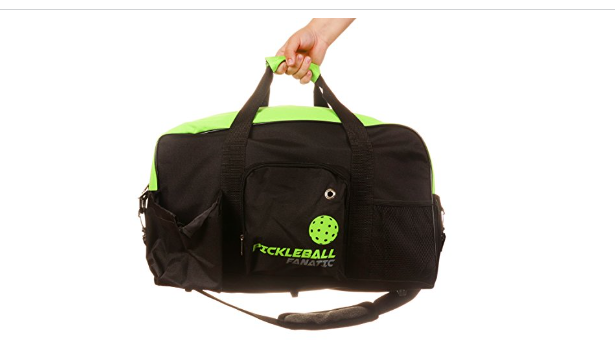 Nothing beats a traditional type of pickleball bag, it's easy to carry around and can store most of your pickleball gear. Generally, a duffel bag is made of nylon or canvas which is guaranteed a durable material.
What's amazing about it too, is it has lots of pockets to put your other stuff in. Truly, a helpful bag to hold all your gear in one place.
Pickleball Backpack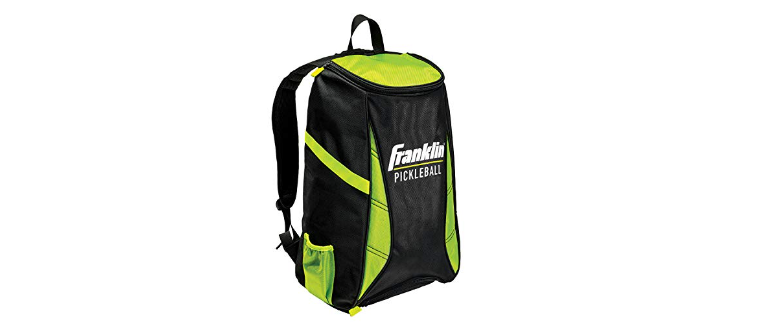 A Pickleball backpack is indeed good to carry your gear. It has adjustable shoulder straps which help to balance the weight of your stuff inside, so you can carry them for a long period of time comfortably. This type of pickleball bag has a lot of pockets and a large main compartment to store your
Pickleball Sling Bag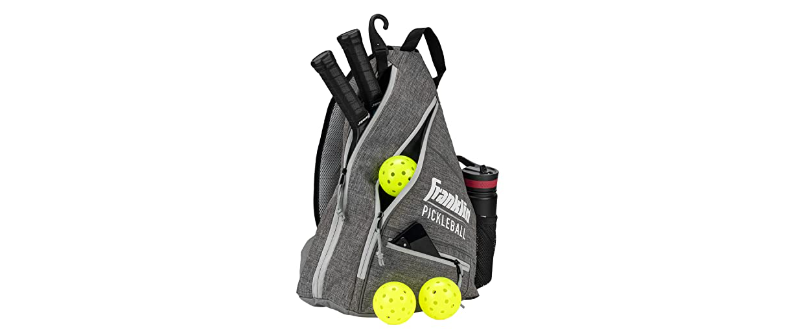 If you love style then sling bags will not disappoint you, convenience is one thing to consider when purchasing a pickleball bag. This sling bag has one strap and is easy to wear for quick errands and practice plays. Moreover, it's a perfect bag for your pickleball balls even for a shoe compartment.
This is a good choice for pickleball players who want to hand-carry their pickleball equipment.
Now, let's get through the list...
Cancha Paddle Bag Mini


The Cancha Paddle Bag Mini is one of the lightest and most travel-friendly pickleball bags you'll ever find, plus it's durable, weatherproof, and designed to look great at the office, the pickleball courts, and everywhere in between.

It also features a modular design, so you can attach accessories designed for sport, work, and travel, such as our Wet-Dry Bag and Day Bag Attachments. No wonder pro pickleball players around the country are depending on this Cancha Bag to carry all their clothes, pickleball paddle, and much more.
Onix Pickleball Pro Team Paddle Bag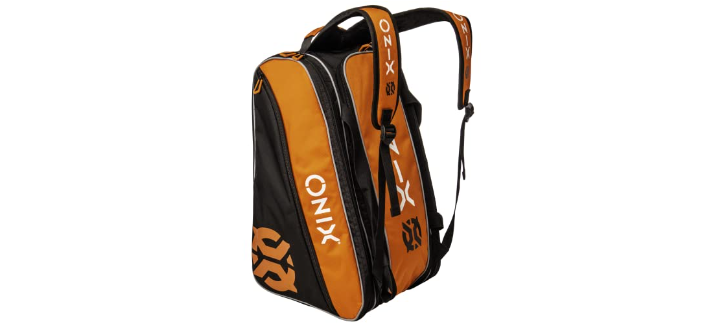 This Onix Pickleball Pro Team Paddle Bag is for serious pickleball players who would prefer durable materials, pockets, and a spacious zippered compartment to store their pickleball equipment and even shoes.
Most Onix pickleball bag reviews say it's big enough to bring all your stuff with convenience thanks to its padded shoulder straps. Moreover, it is water resistant so you are guaranteed the safety of your pickleball paddle inside.
A durable backpack sits upright like an Onix pickleball backpack. This backpack is designed to carry pickleball paddles, balls, apparel, and water bottles. Some pickleball bag reviews mentioned how cool it is with the breathable mesh panels. Overall, Onix is a great pickleball bag brand.
Amazin' Aces Pickleball Backpack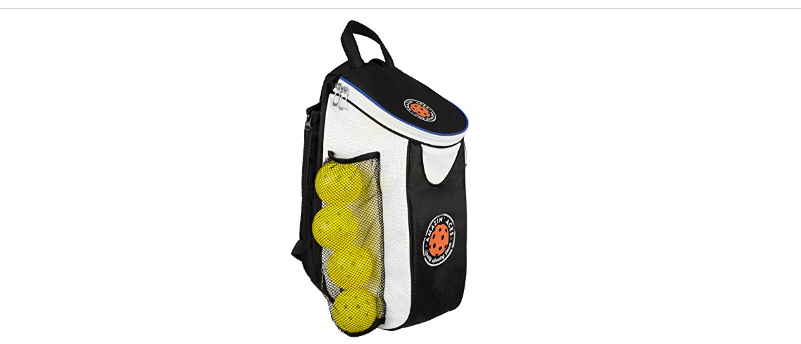 A pickleball player deserves a bag that can carry their gear without it looking too bulky. Lucky for you, this bag can hold multiple paddles, balls, and other stuff which are necessary for a pickleball tournament.
Water resistant, durable materials, padded straps, you'll have no problem bringing this anywhere you go.
Pyramid Premium Pickleball Bagpack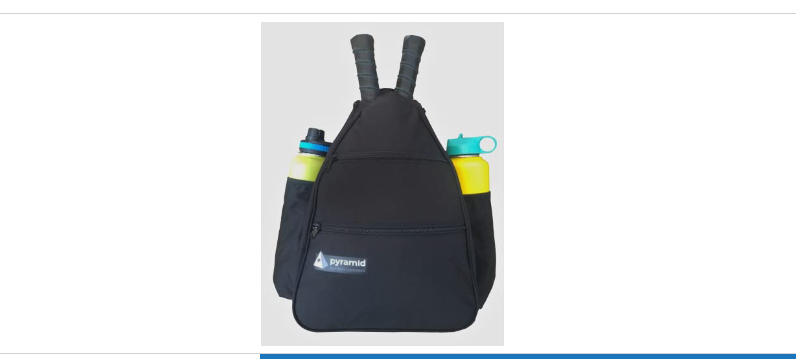 Looking for a bag with a water bottle holder that can carry water bottles? You're looking at it now!
This pickleball bag can hold multiple pickleball paddles without any damage thanks to its padded compartments. Moreover, if you like keeping valuable things, this pickleball bag has a hidden pocket to secure your jewelry, and other stuff while you play.
Pickleball Fanatic Duffel Bag
This bag is suited for pickleball players and it works well with lugging the pickleball paddle and all your pickleball gear for a tournament. Indeed, a go-to bag anytime, anywhere. You can also choose various colors that suit your personality. This Pickleball Fanatic Duffel Bag is designed with a front pocket for is made with sturdy materials that are sure to secure the longevity of this product.
Franklin Sports Pickleball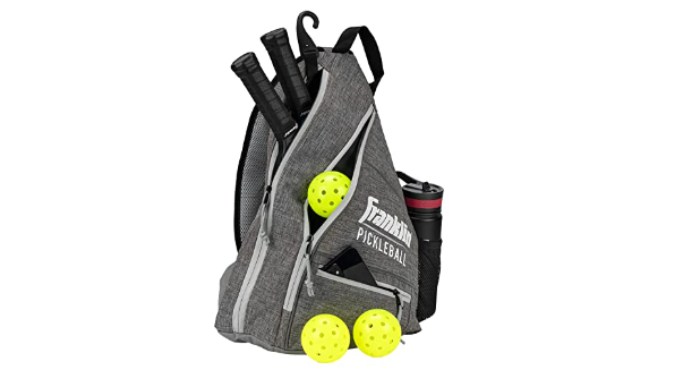 Love attending tournaments with style? Then match your vibe with a Franklin Sports Pickleball bag, as they say, "used only by pros." With extra large storage, a zippered pocket to keep your things organized inside, and weather-resistant to keep your things dry, it is surely worth the buy. If you're not using it, the built-in fence hook is helpful for quick and easy storage.
Onix Pickleball Durable Backpack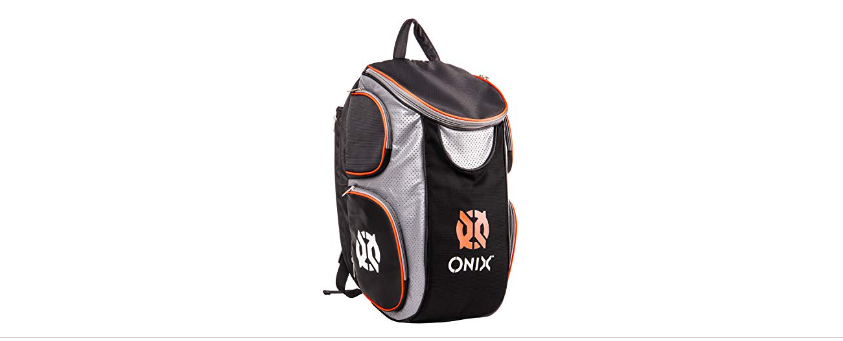 For athletes who need a handy backpack to accommodate all of their belongings, the Onix Pickleball Durable Backpack is the best on the market. It is composed of durable mesh panels that will serve you for years and contains numerous compartments and pockets to keep your things in place.
TRANOMOS Backpack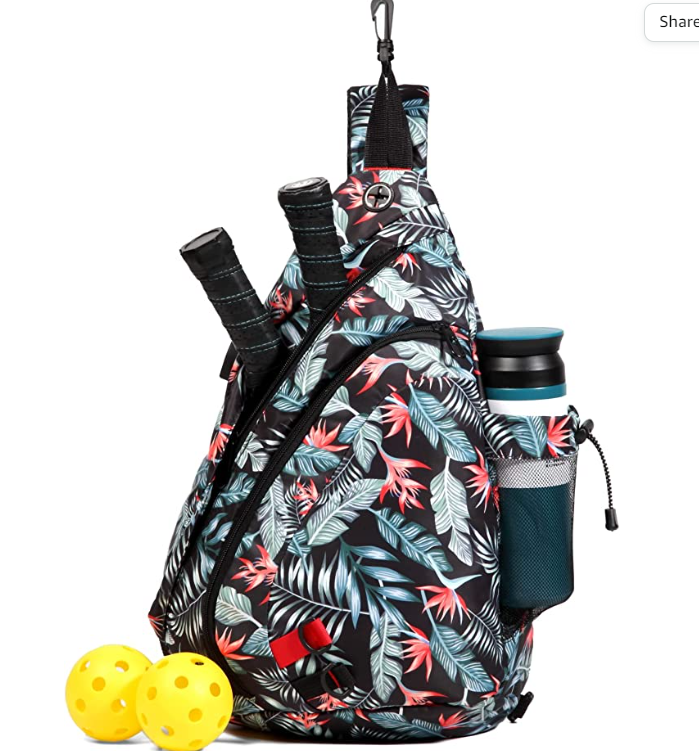 Water bottle pockets? Extra side pockets? All are present with TRANOMOS Backpack! This sling bag is convenient to carry, regardless of which side you want because of the adjustable, padded shoulder straps that can be switched whenever you like.
Your valuables are secured thanks to its anti-theft pocket on the back. It also offers plenty of space to keep everything you need for a day, truly a versatile bag indeed.
ZOEA Tennis Bag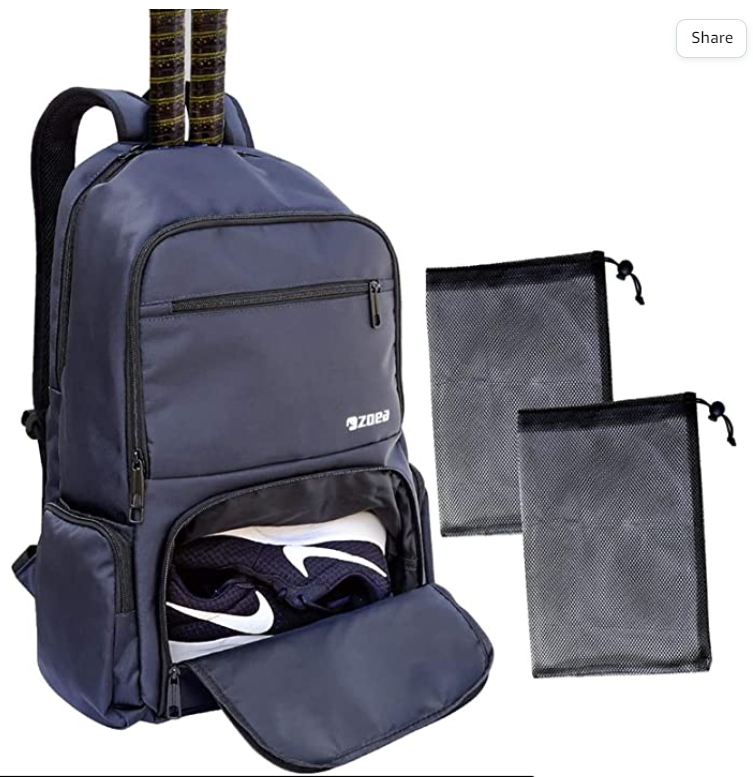 A pickleball bag like no other they say, this bag can hold 2-3 rackets featuring durable zippered pockets, a ventilated shoe space, and small pockets to hold your valuables. The bag comes with two travel-size bags for other sports accessories and needs. Waterproof and with a comfortable fit, certainly worth every cent.
Pickleball Bella Duffel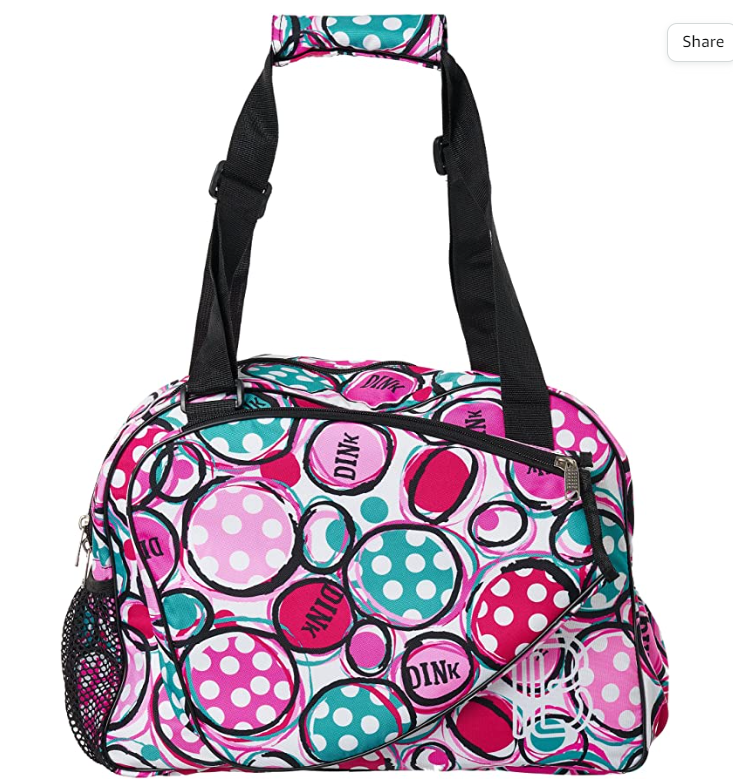 If we're talking about design and durability, Pickleball Bella Duffel is one of the top picks when it comes to duffel bags. This comes with a padded paddle case designed to solely organize and protect your pickleball paddles, it is made with gear-friendly materials to avoid scratches. It includes pockets perfect for your valuables, pickleball balls, and other accessories.
"All-In-1" Backpack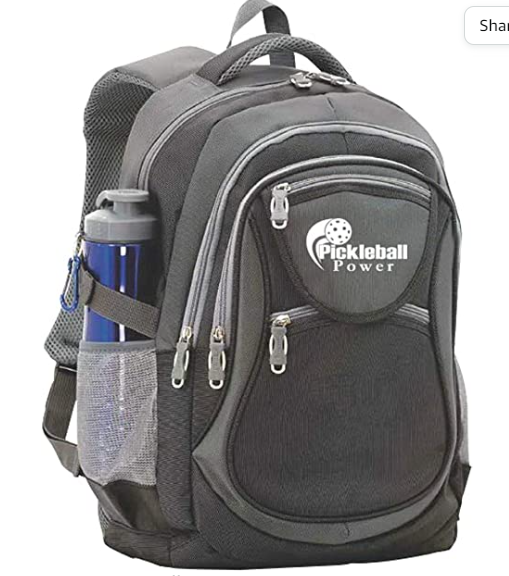 Made for serious pickleball players, this backpack has a breathable air mesh padded panel on the back perfect for comfort. This bag can accommodate multiple paddles, and clothes, and features two side mesh for a water bottle to help you get hydrated for longer games.
Tennis Tote Bag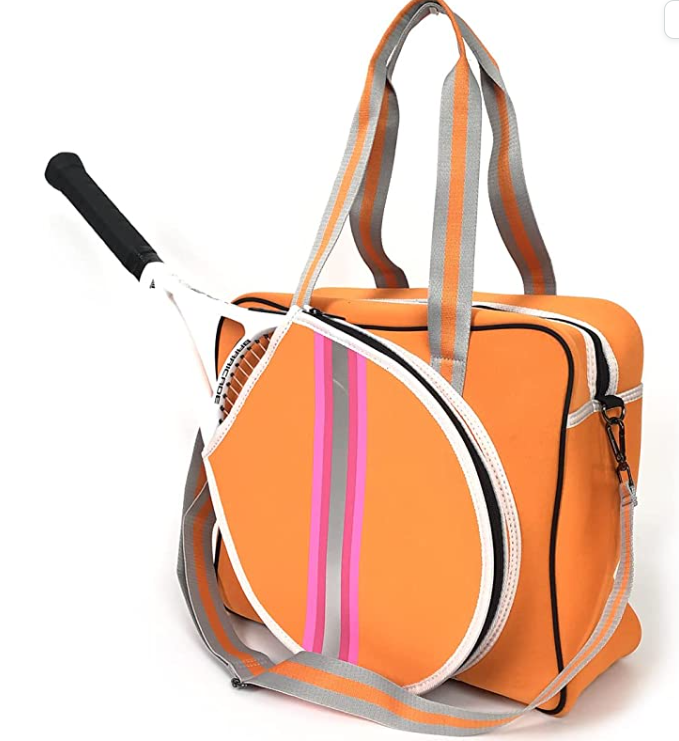 If you're looking for a travel-friendly pickleball tote bag, then the search is over! A reliable bag that has enough space for your gears and is perfect to use for every quick game. Made with neoprene, this bag is lightweight and can hold valuables all in one place. Additionally, this bag has an exterior pocket designed to hold your pickleball paddles, and racquets.
DSLEAF Tennis Racket Bag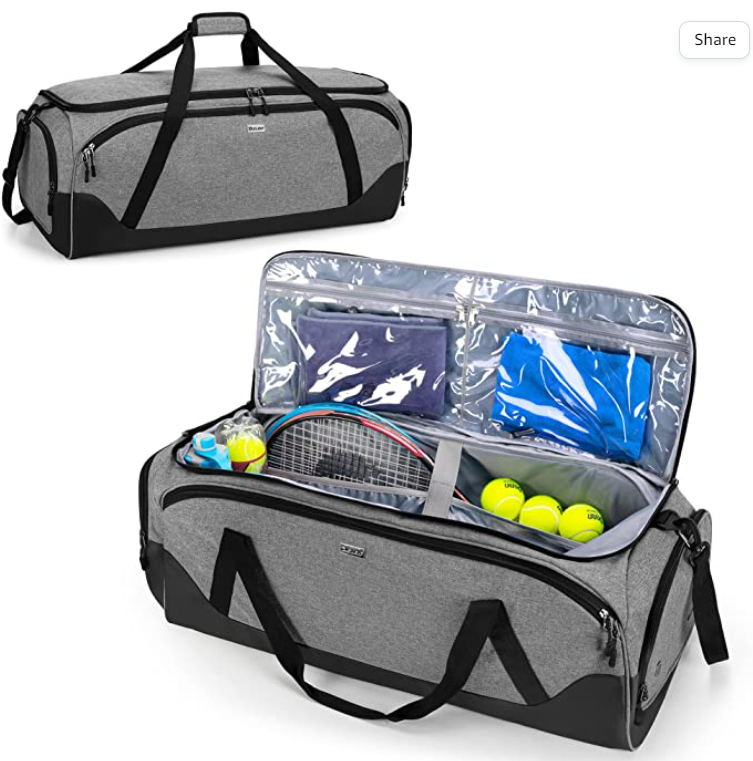 Looking for a spacious bag to carry all your stuff and keep your hands free from any gear? DSLEAF Tennis Racket Bag has a lot to offer. It is designed with large compartments for your game equipment and even after-game valuables.
In addition to that, it has an isolated and well-vented shoe pocket to keep your shoes nice and dry. Made with nylon, this bag is perfect for heavy-duty use.
Boulder Bee Bag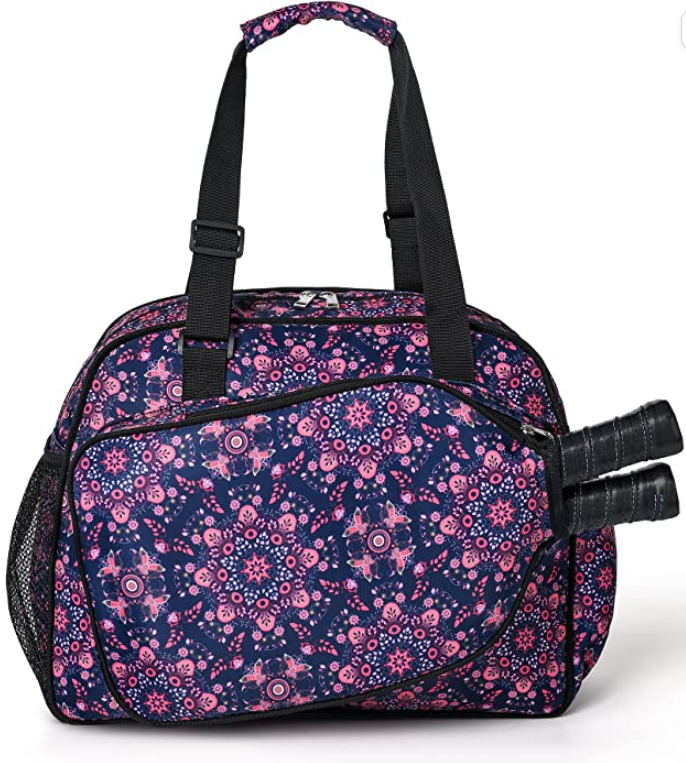 Play like a pro pickleball player you always with a Boulder Bee Pickleball bag! This bag is made with high-quality nylon material which ensures its durability. You can also choose your favorite color and it is designed with front pockets solely for your pickleball paddle, and the main compartment for your gears.
QCWN 2 Racquet Tennis Bag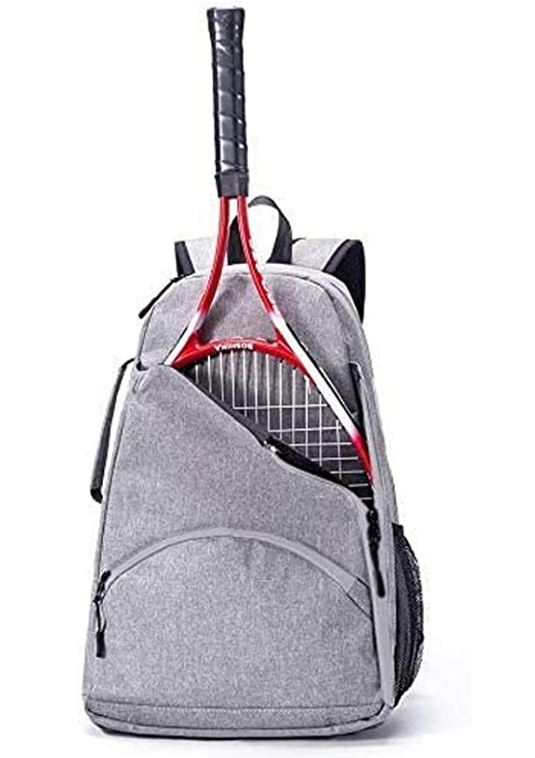 Whether you are a pro player or not this bag is perfect for you! This bag is made with quality stitches and durable materials which can withstand multiple uses. Moreover, this features a zippered pocket perfect for your small valuables to keep them organized. The main compartment can accommodate space for your towels, balls, paddles, or even snacks. On the side, it has an elastic water bottle holder, perfect for long games.
Game On Pickleball Duffle Bag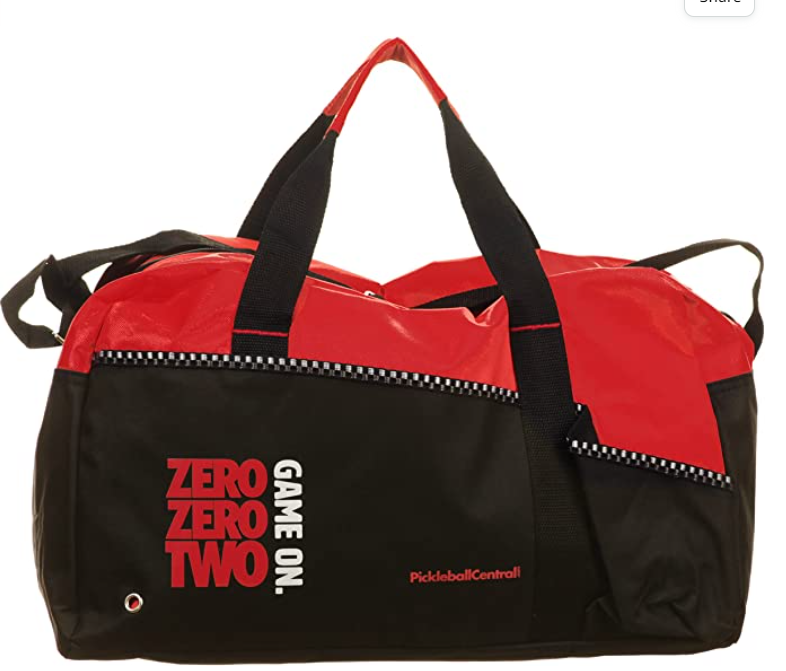 Are you looking for an extra large compartment for your entire stuff? Then Game On Pickleball Duffle Bag is the real deal. It can store up to four paddles and balls, perfect to bring to any game tournament. It has an adjustable shoulder strap to help you carry it with comfort.
JOOLA Vision Duo Pickleball Bag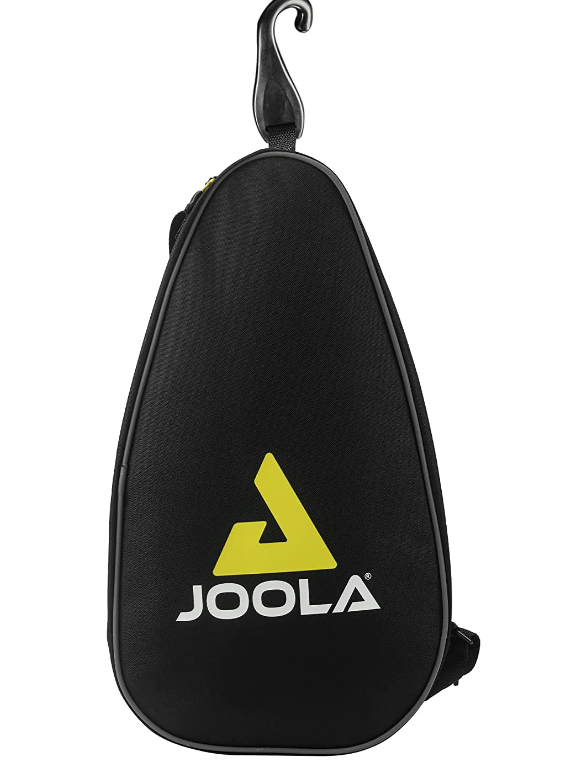 Perfect for 2 paddle sets, this bag consists of a paddle cover from which you can easily slip your two rackets and two more pickleball balls. It has a small zippered pocket on the side for your accessories. A perfect on-the-go bag whenever a game calls you!
Pik'le'Ball Women's Premium Pickleball Bag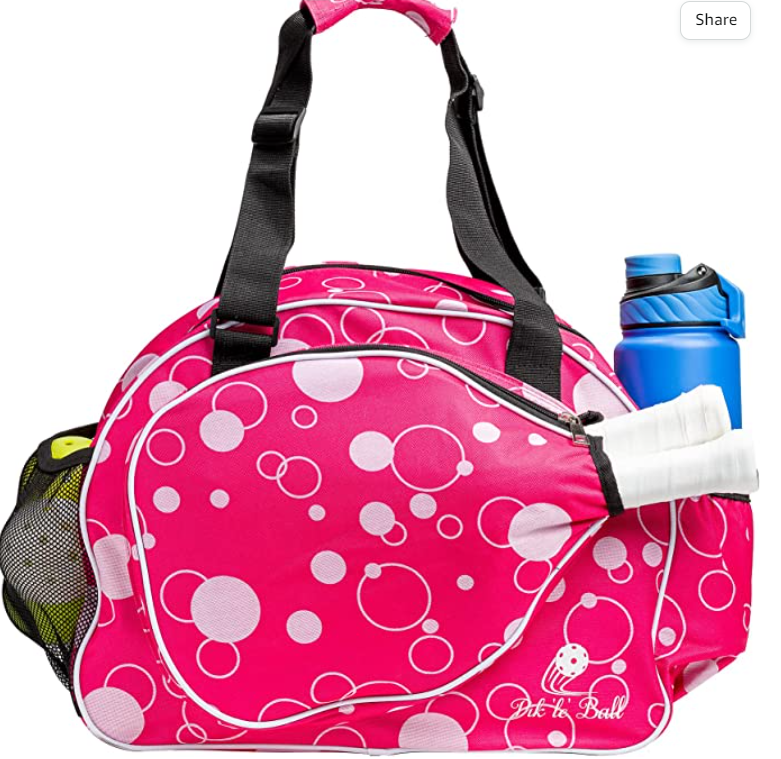 To carry all your tournament gear, that's one thing you should look for when buying a pickleball bag. Look no more, with Pik'le'Ball Women's Premium Pickleball bag. This bag comes with different colors to choose from, plus the compartment is roomy enough to hold all your game necessities in one place.
This bag has an elastic side pocket for you to put your pickleball balls and water bottle. It has a zippered compartment in front with protective material to safeguard your racquets and paddle.
Himal Pickleball Bag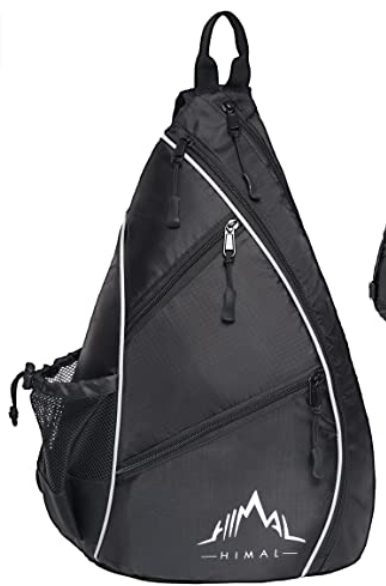 If you love stylish sling bags then this Himal Pickleball bag is the perfect choice for you. Made from polyester this bag is sure to give you the good quality you're looking for, plus it comes in different colors to suit your personality.
It features five pockets and a water bottle holder, it may be small but it can hold a lot of things such as 6 pickleball paddles, balls, and even a table tennis paddle.
Shiningwaner Pickleball Bags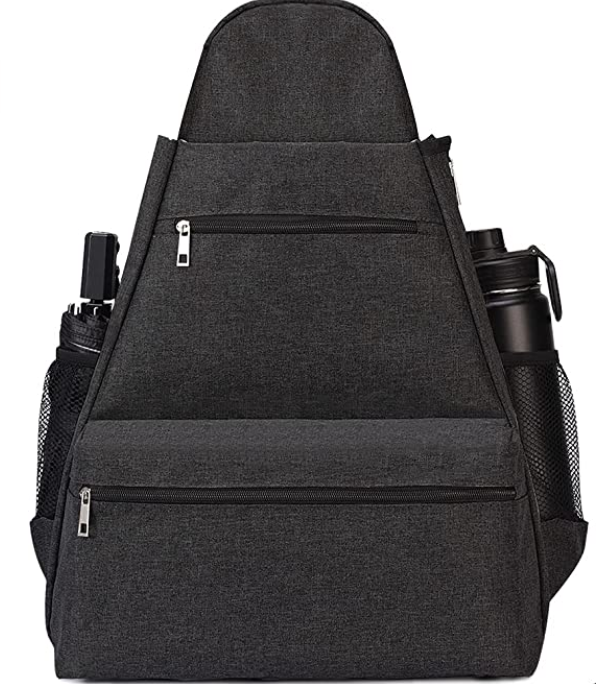 We all love a versatile bag and heavy-duty one especially ones that are travel-friendly and game ready. Shiniwaner Pickleball bag has a lot to offer you, it is made with canvas material that is of high quality with a padded design to safely keep your rackets and valuables.
Aside from its adjustable padded straps, it is easy to keep when not used, plus a front pocket and side mesh for water bottles gives it a fantastic look and use.
Ame & Lulu Pickleball Backpack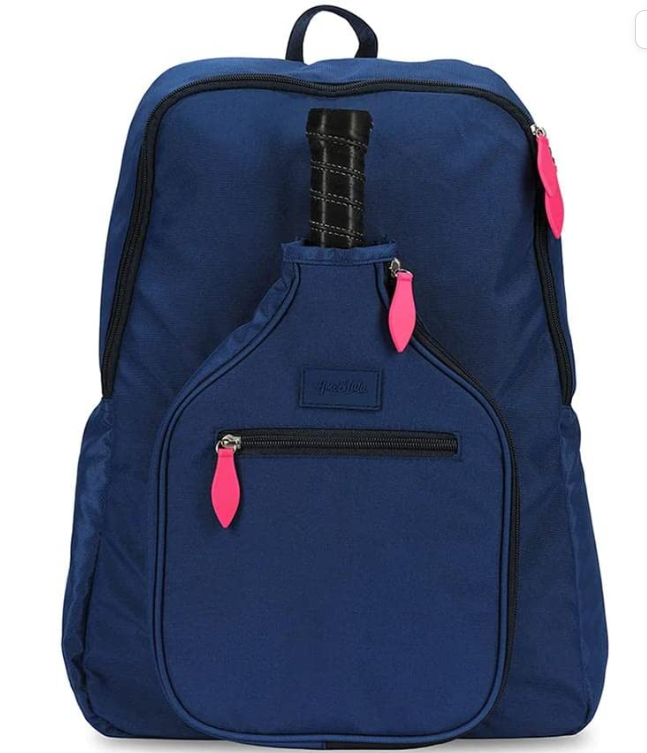 Looking for a padded bag with a clean look? The search is over with this pickleball backpack! It features padded straps and a front compartment for your paddles or rackets. It also has a front pocket for your accessories with zip closures to ensure security and a roomy compartment inside for your clothes and snacks.
Athletico Sling Bag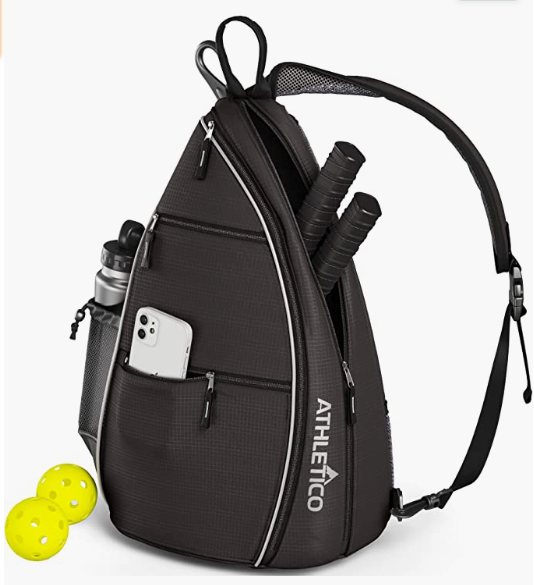 This bag features a reversible strap which you can easily flip side by side with multiple pockets you can use to keep your valuables inside. The bag can take up to 6 pickleball paddles, rackets, and even personal belongings gadgets, or clothing. Moreover, it has an anti-theft pocket in which you can keep your wallet and accessories.
Boomer Pickleball Sling Bag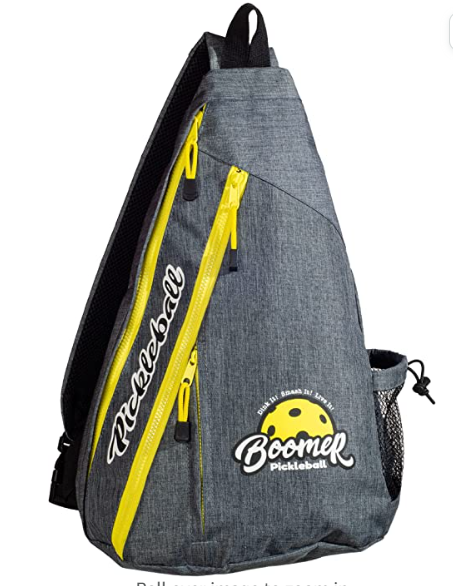 This bag is durable, water resistant, and will keep your gear and clothes nice and dry inside. It is designed to carry up to 4 paddles, and balls, and has three compartments for you to fill up.
Sucipi Pickleball Bag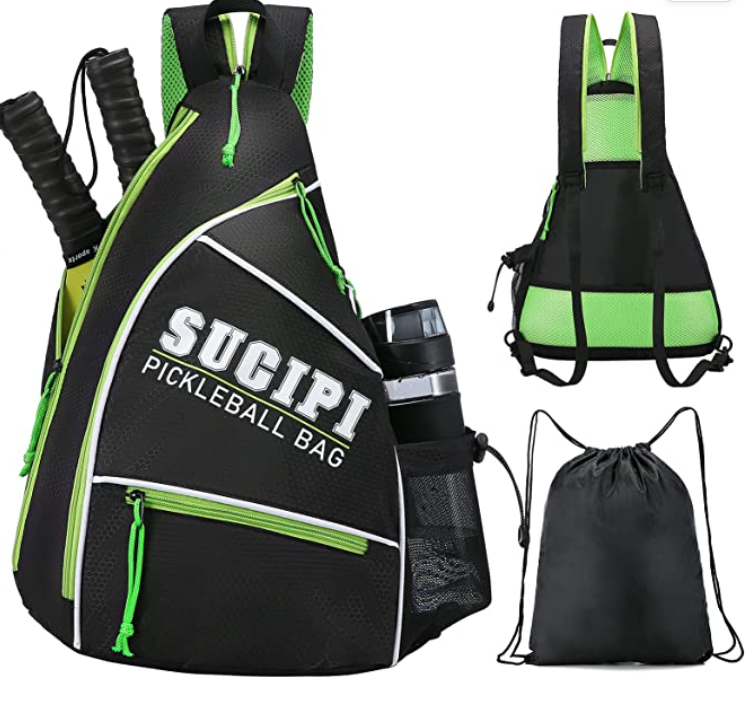 This bag has a roomy compartment that features five pockets for you to store your stuff inside. This sling bag is heavy-duty and can withstand the rainy season thanks to its waterproof feature. It comes with a separate drawstring bag for your extra gear, shoes, and clothes.
Lolly Luella Tennis Bag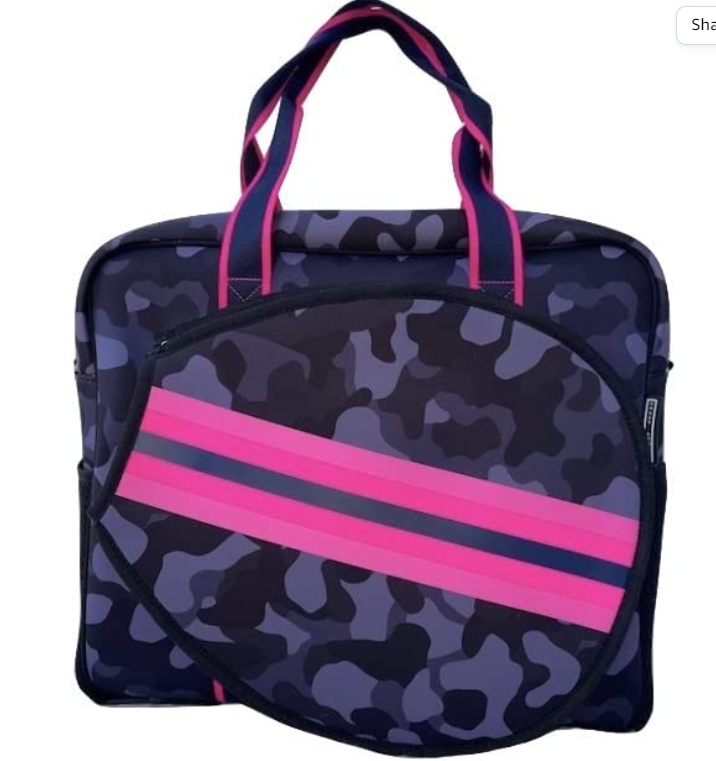 This bag is made of neoprene and can hold up to 2 rackets. It has 2 exterior and 2 interior pockets for your water bottles and other small valuables. It has a large compartment for all of your game necessities and has an adjustable and removable shoulder strap to wear at your convenience.
Glove It Pickleball Sling Bag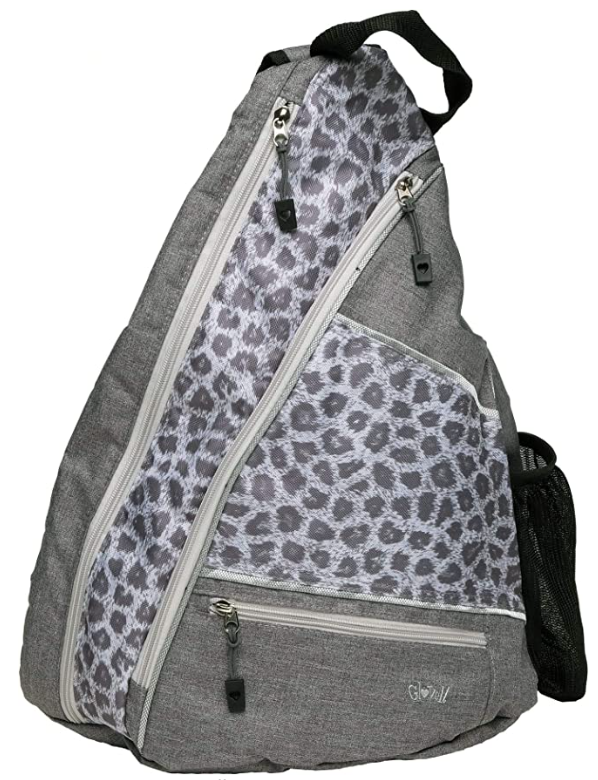 This lightweight bag is easy to carry and has an adjustable padded shoulder strap that's comfortable to wear without straining back and shoulder muscles. It is made with durable polyester and nylon material that is resistant to harmful sun rays and weather.
Moreover, it has a large capacity that can accommodate up to 6 paddles and large front pockets for pickleball balls.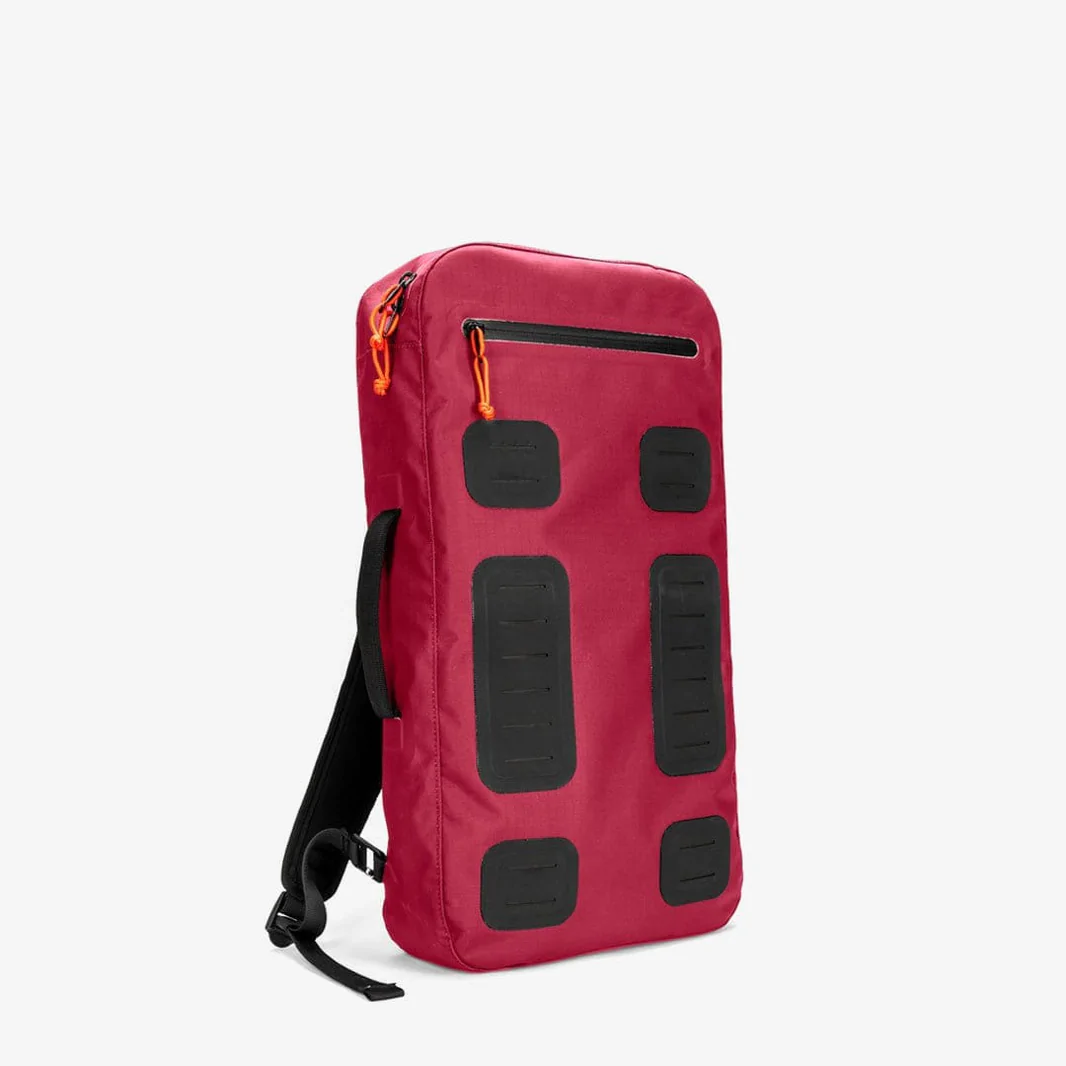 The mini bag was built for court sports, but different from the Racquet Bag and Racquet Bag Pro, it was designed especially for paddle and pickleball equipment. The design and durability of this bag make carrying it on the go easy, so you can take it from the office to the courts with ease. 
---