Welcome!
I am Jack, the founder of Cancha. Our Blog is all about travel, adventures, and sporting experiences like no other, with some helpful guides along the way to get the most out of your favourite activities. Follow along for all our adventures.
Read our story
Our Mission
We believe in pursuing your passions and seeing more of the world, because every adventure is unique. Shop the world's most customizable travel bags, made for athletes, by athletes. 
Shop The Range
---
The 10 Best Tennis Clubs in New York City
If you're a tennis player in New York City, you know there are plenty of great places to play. But with so many choices, which club is the best for you? Here is a list of the top five clubs in the city, based on location, amenities, and affordability. So whether you're a beginner or a pro, there's sure to be a club that's perfect for you!
NYC Tennis Club Seekers - We've Got What You're Looking For!
New York has a club for every player, whether they choose a seaside location or the convenience of midtown. A variety of clubs from small to large are available.
All provide game planning, adult and youth programming, a laid-back setting, and welcoming people. There is no better place than the NYC clubs if you're seeking a welcoming environment where you can compete and foster a true enthusiasm for the game of tennis.
Because of these accessible New York-based sites, your area now has a tennis club with all the amenities. Discover the tennis club, clinic, or program that's right for you from our selection of outdoor and indoor tennis clubs, clinics, and programs.
In addition to this, for die-hard tennis supporters, this excitement unavoidably makes us eager to get out on the courts. Therefore, whether you're already planning a rally with your tennis friends or are looking for new foes, joining a tennis club in NYC is the best way to go.
There are several wonderful places in the boroughs of New York City to practice your forehands, backhands, and volleys. Some even have an indoor court or two so you can play throughout the winter.
Channel your inner Serena Williams and Rafael Nadal by snagging a season or single play pass for the plethora of public courts courtesy of NYC Parks or by hiring out a jaw-dropping stadium position.
The greatest tennis courts in New York City for a couple of sets of play are listed below.
Manhattan Plaza Racquet Club
High-end tennis in the middle of Manhattan
Perks you can experience:
5 indoor championship hard courts with air conditioning

Extravagant clubhouse

Tennis is available all year long at the Manhattan Plaza Racquet Club (MPRC), which has all you need right in the heart of the city.

Access to Manhattan, one of the greatest health clubs in the city

Plaza Fitness Club
Open every Monday - Sunday 6 AM to Midnight.
If you're interested to experience these perks then check out the membership perks for this tennis club below:
Members of Manhattan Plaza Racquet Club (MPRC) may reserve court time up to 14 days in advance.

Game Arranging - A unique service provided by MPRC's desk staff to introduce members to playing partners. MPRC utilizes the NTRP rating system.

Use of lounge, locker rooms, locker rental, saunas, and sunbathing area.

Full membership to the Manhattan Plaza Health and Swim Club.

Also now includes full membership to Manhattan Plaza Health and Swim Club.

Initiation fees are waived for summer members.
For membership inquiries, check out the rates here.
New York Tennis Club Indoor
An oasis minutes from Manhattan
Perks you can experience:
Quick Access to lower Westchester, Queens, and Manhattan

Regarded as one of the top tennis club deals in the metro area

Members of The New York Tennis Club (NYTC) have access to a top-notch tennis facility that additionally offers ample play time and plenty of parking.

Provides seasons both indoors and outside.
Open every Monday-Sunday 7 am to midnight
The New York Tennis Club was established in 1886 and is the city's first tennis organization.
The Club has preserved its calm environment, the friendliness of its members, and its professional approach to a sport that is incredibly popular over the years. The Club is a refuge in a peaceful area of the City, complete with a patio, viewing balcony, and six HarTru courts. In the Tri-State region, it offers the finest value as well.
The Club provides plenty of free parking on-site and is close to Manhattan, Queens, Long Island, and lower Westchester.
A club for any occasion.
The New York Tennis Club Indoors (NYCTI) provides top-notch courts at affordable prices from mid-October to early May. The two climate-controlled bubbles have lighting that casts no shadows and is glare-free. No membership is necessary, and the hours of operation are 7:30 am to 11:30 night, seven days a week.
Throughout the rest of the year, the Club offers unlimited play—as much tennis as members want—during the outdoor season. Visit the website of the New York Tennis Club for further details.
Vibrant, excellent junior and adult programs, as well as top-notch experts.
Adults and children of all skill levels can take private tennis lessons from our elite staff of tennis pros. In addition, there are singles and doubles leagues, a complete program for setting up games for singles and doubles players, group lessons for all skill levels, aerobic tennis classes, and guest-welcoming tennis parties.
Compete and Save.
Over 30 USTA-sanctioned tournaments are held at NYTCI for top junior players in the area. Entry fees are discounted by 20% for players participating in Advantage QuickStart or the Jr Development Programs. For more details click here.
Set your objectives.
Whether you want to improve your current abilities, learn new ones, get in a fantastic workout, or get ready for your upcoming competition, NYTCI can satisfy your demands.
Check out the facilities you can enjoy with a membership below:
Best court rates in the metro area

6 Har-Tru courts with shadowless, glare-free lighting are housed in climate-controlled bubbles.

An oasis of tranquility that is close to Manhattan, Queens, and lower Westchester

Access to a luscious garden and a summer dining patio

Seasons outdoors and indoors

Open seven days a week from 7 a.m. to 11 p.m. indoors and 8 a.m. to 8 p.m. outside*

Basics available on-site, including restringing service

A fully-stocked clubhouse with showers and locker rooms

Adult activities include leagues, cardio tennis, private and group lessons, and starter clinics.

Junior Programs include tennis and sports summer camps, as well as tournament preparation and QuickStart (for children ages 4 and above).

Free on-site parking is available.

In the summer, guests are welcome
For membership inquiries, check out here.
Roosevelt Island Racquet Club
Perks you can experience:
Play on 12 Har-Tru courts while surrounded by transparent bubbles.

Two gathering spaces

Members can find all they need in a tennis club at the convenient Roosevelt Island Racquet Club (RIRC). With an outstanding list of added advantages, such as:

Numerous adult and youth programs
Members of the Roosevelt Island Racquet Club benefit from a wide range of advantages, including the greatest courts, coaches, and classes, as well as a welcoming environment, a lovely location, and an overall excellent time. Moreover, membership programs offer Adult Game Arranging, Junior programs, camps, adult camps, and specialty workshops.
For membership inquiries, check out here.
USTA Billie Jean King National Tennis Center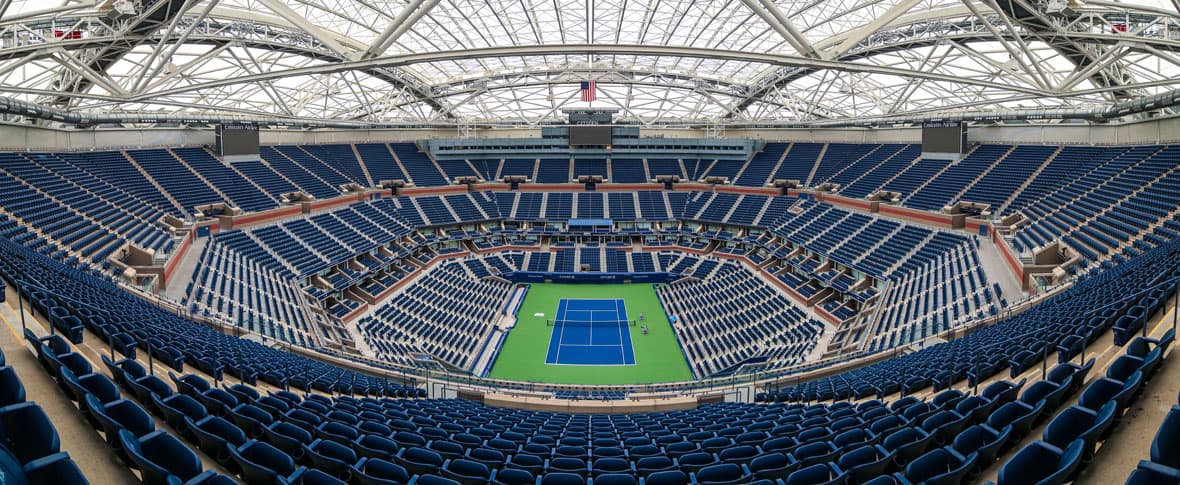 Playing on renowned courts where the greatest tennis players in history have engaged in epic, all-day matches inspires you like nothing else.
Since 1978, USTA Billie Jean King National Tennis Center has served as the venue for the US Open, making it a well-known sports emblem worldwide.
Hard courts both inside and outside of the building can be rented out by the hour and on a seasonal basis. Additionally, ball machine rentals are offered if you want to go out on your own.
Cost: Hourly rates for outdoor and indoor courts start at $38, seasonal contract prices vary, and hourly ball machine rentals start at $15, which is not bad considering its the same location as the US Open.
For more inquiries, check out their website here.
Central Park Tennis Center
The Central Park Tennis Center is a well-known NYC institution with a loyal following that includes spectators, amateurs, and professional tennis players as well as celebrities.
Plan a day trip during the week or the weekend to gather around one of the 24 green clay courts or the four hard courts that are present on the property, but bear in mind that it is advised that sportsmen book a court in advance (as this is one of the most popular spots to play in the city). Additionally, there are adult group clinics, cardio tennis classes, and individual and semi-private lessons for players of all ages and levels of ability if you want to bone up on your game.
The tennis clubhouse also offers a pro shop with on-site stringing, a snack bar, locker facilities, and an outdoor patio, making it the ideal spot to unwind after a match.
Cost: Nothing but only an NYC Parks Tennis Permit
For more inquiries, check out their website here.
Conclusion: The Best Tennis Clubs in NYC
Now that you have the list of highly accessible tennis clubs in NYC then you might want to plan that fun and recreational weekend with your friends or family! Make the most out of your leisure time, show off your skills on the court and be competitive.
So what are you waiting for? Book a court reservation and get ready to hit the court! You can take a more in-depth dive into some of the best tennis clubs in the US (hint: NY is on the list!) from this recent blog: The Top Ten Tennis Clubs in the United States.
---