Welcome!
I am Jack, the founder of Cancha. Our Blog is all about travel, adventures, and sporting experiences like no other, with some helpful guides along the way to get the most out of your favourite activities. Follow along for all our adventures.
Read our story
Our Mission
We believe in pursuing your passions and seeing more of the world, because every adventure is unique. Shop the world's most customizable travel bags, made for athletes, by athletes. 
Shop The Range
---
The Best Bag for Balls in 2023
Having the appropriate tools is very crucial for coaches and trainers.
In order to perform well on the practice field, players and teams depend on having access to the proper resources.
Theoretically, this ought to have a beneficial domino effect in the form of improved athletic performance.
Since it would likely be challenging to transport many soccer balls at once without them, we have focused on evaluating the best soccer & basketball bags in this article.
Cancha Backpack
Made for Athletes and Adventurers Alike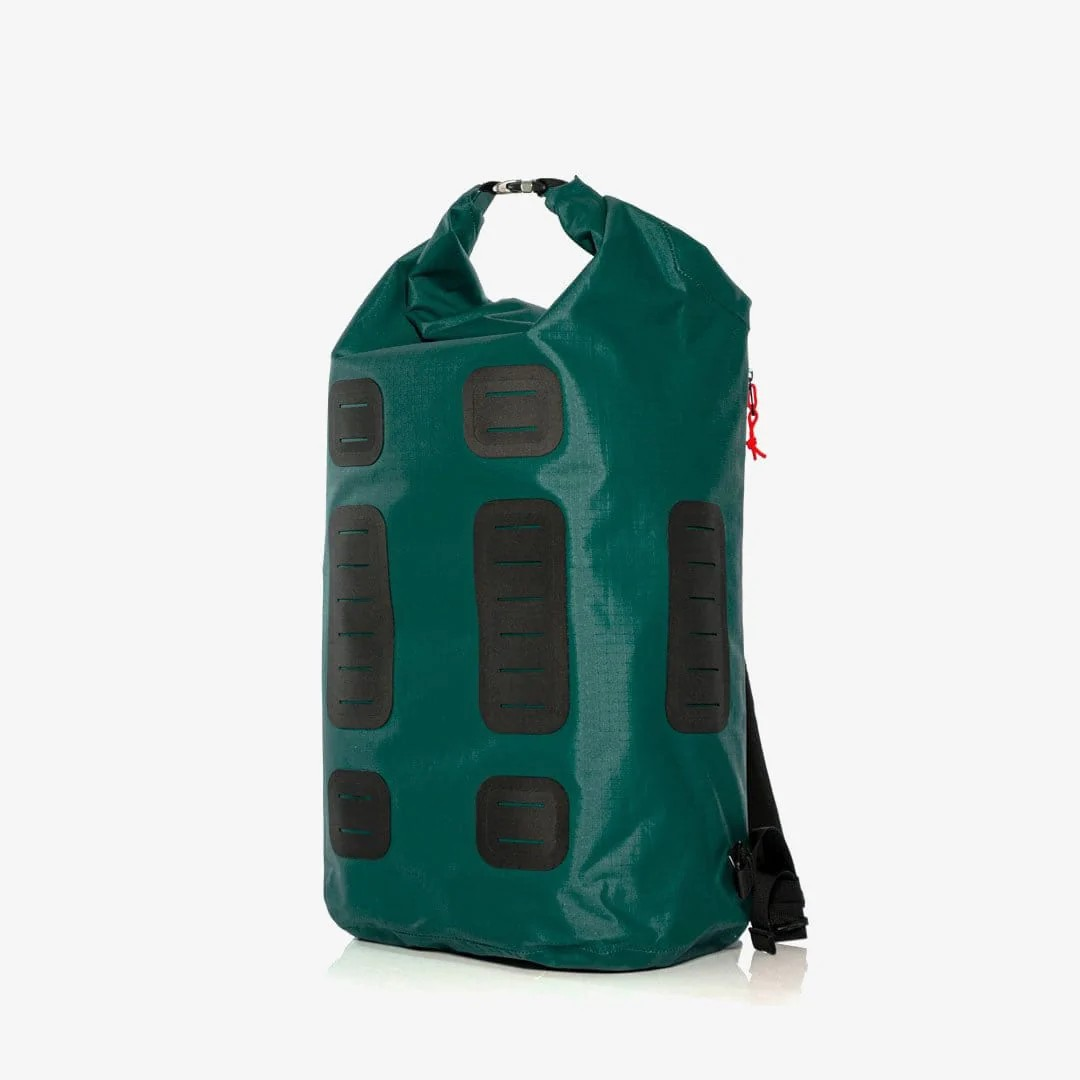 A fantastic pick for fitting basketballs and soccer balls due it its wide opening and roll-top design. You need a reliable, lightweight backpack when you're on the road, on the court, on the field, or in the air.
Introducing the Cancha Backpack, the most adaptable, powerful, and fashionable backpack ever created for athletes of all skill levels and everyday explorers.
Our travel bag is made of rip-stop fabric, has large compartments that are precisely cut, and can be customized with specific modular accessories designed for work, sport and travel.
Available in different colors, including Forest Green, Deep Black, Charcoal Grey and Cardinal Red.
Athletico Mesh Soccer Ball Bag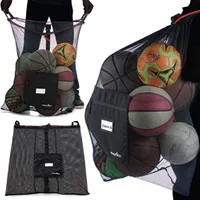 Due in large part to the company's goals and ambition, the Athletico Mesh Soccer Ball Bag stands head and shoulders above the competition when looking to carry multiple balls at once for practice.
Since fundamental functionality and durability are development characteristics that are at the heart of the majority of their efforts, extensive research and testing are conducted to ensure that the products they send to market are more than suitable for their purpose.
They have also made a significant commitment to reading every written review and email received from customers in order to use the feedback as a tool to enhance their goods. They use the information received as an additional data point to help them make decisions in the future.
Open weave mesh design (heavy-duty mesh) - Your soccer balls will occasionally pick up moisture, whether from playing in the rain or from being submerged in water.

You're in luck, then, as this bag makes sure that your soccer balls dry as quickly as possible.

Water droplets may easily drain away from the mesh's pores, and the mesh's adequate ventilation through the spaces between its holes helps to keep odors to a minimum overall.

Not all of the mesh components are aesthetic either; because of its rip-resistance, you won't likely notice any tears that could be caused by stuffing the bag too full with soccer balls or simply rubbing it against an abrasive surface.

Zippered front pocket - Due to the fact that this area can accommodate a variety of items, including but not limited to:

Letter-size papers, team sheets, and portable soccer ball pumps

This product's dedicated card ID slot area for user identification or personalization is another intriguing feature.

When you need to identify your bag among a group of others, you can write your name on that and slide it inside the front pocket compartment.

 

Color contrasting drawstring - Athletico's usage of vivid red color for the drawstring cord, which makes it simple for the user to notice, is a fantastic example of this.

Along with this, the bag has a security cord lock that makes it simple to open and close on demand.

The drawstring on other manufacturers frequently does not come with a lock, which makes it difficult to fully close the closure in some circumstances.

Other features:

Store capacity: 10 soccer balls

 
Fitdom Heavy Duty Soccer Mesh Equipment Ball bag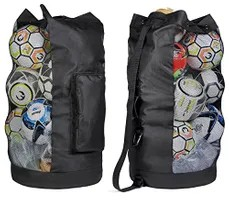 From a research and design standpoint, the Heavy-Duty Soccer Ball Bag that they have created is ideally suited to the needs of the end user.
Fabric Spec
polyester fabric 600 denier is the main fabric spec for this bag. According to this page, polyester textiles are offered in a variety of thicknesses, therefore the metric just denotes the polyester's own level of thickness.
On one end of the thickness spectrum, 300D polyester is regarded as thin, while 600D comfortably fits into the heavy-duty category.
This product is well suited for withstanding rough pitch conditions and situations when there is a substantial downpour of rain thanks to the sturdy fabric at work.
You'll likely be pleased to learn that this soccer ball bag is constructed with additional binding, which covers all of the connecting inseams for increased durability and longevity.
In the end, it should be sufficient to say that this bag is a good option for someone searching for something incredibly sturdy that is highly unlikely to disintegrate after a few uses.
Cylindrical construction
The cylindrical shape of the good products that belong to this category is another frequently overlooked feature.
You see, with such a design, the user may reach the bag of soccer balls without stooping.
This is due to the cylindrical makeup setting the bag up in an accessible upright standing position.
It's wonderful to see that Fitdom Gears has included ergonomics in its design.
The last thing a user wants is severe shoulder pain, thus a 2-inch shoulder strap that is adjustable has been added to lessen the stress that holding multiple soccer balls at once places on that part of the body.
Other features:
Oversized pockets

Store capacity: 13 soccer balls

 
Nike Club Team Swoosh Bag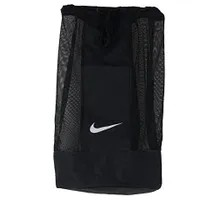 If you're looking for quality gear for a sports pro like you, then the price is right for durable material like this Nike Club Team Swoosh Bag! We don't think I need to say much about the company since if you've been following soccer for a while, you probably already know how closely Nike is associated with many facets of the game.
The brand has practically all of the bases covered in the sport, from Nike shoes to Nike soccer balls and other accessories.
First off, of all the soccer ball bags in this comparison, the Nike Club Team Swoosh Ball Bag boasts the most storage space.
It is simply amazing that it can transport up to 16 fully inflated soccer balls.
So, if size is your main concern, this bag is a good option.
The soccer balls are kept dry by the mesh panels that are located on either side of the bag, and the adjustable shoulder strap offers users another convenient carrying option.
The drawstring closure, which can come undone if the bag is fully loaded, is one place that did seem like a bit of a letdown.
Other features -
Store capacity: 16 soccer balls
SELECT Duffle Bag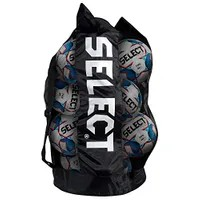 Fabric Spec
This bag has Has a 600-dernier nylon see-through mesh that enables users to count the number of soccer balls they've placed inside the bag.
Hard-wearing bottom
There is no denying that soccer ball bags experience some abuse.
Users frequently prefer dragging these bags down the ground instead of carrying them by hand because of how heavy they can be from carrying so many balls.
This bag is another excellent option in terms of durability as it should be able to withstand years of drag thanks to its tough bottom.
Padded shoulder straps
With shoulder straps that resemble those on a backpack, this duffle bag also gives users the freedom to carry comfortably and conveniently.
Imagine being able to carry a bag of soccer balls on your back the same way you would a school bag!
Other specifications
Store capacity: 10-12 soccer balls
Features you should look for when buying a ball bag:
Conclusion: The Best Ball Bags
Hope we helped you in narrowing down your choices for the best ballbags to buy this 2023! Remember, always go for quality bags that are durable and can assure you longevity of use. That said, we'd like to conclude that the best-recommended product is the Cancha Backpack; A must-have for every novice to the pro player in the industry.
---