Welcome!
I am Jack, the founder of Cancha. Our Blog is all about travel, adventures, and sporting experiences like no other, with some helpful guides along the way to get the most out of your favourite activities. Follow along for all our adventures.
Read our story
Our Mission
We believe in pursuing your passions and seeing more of the world, because every adventure is unique. Shop the world's most customizable travel bags, made for athletes, by athletes. 
Shop The Range
---
The Best Commuter Backpacks for the Busy Professional
If you're a busy professional, chances are your commute to and from work every day. Whether you drive, take the bus, or ride the train, you need a good backpack to make your commute as smooth and stress-free as possible. After all, the last thing you want is to be fumbling around for your laptop or train pass when you're already running late.
To help you out, we've compiled a list of the best commuter bags for the busy professional. From stylish backpacks to rugged duffels, there's sure to be a bag on this list that's perfect for your needs. So, what are you waiting for? Read on to find the perfect commuter bag for you!
What should I look for in a Commuter Pack?
If you carry a lot of stuff, you will need a durable and large compartment, as well as a padded back panel that can support your body. The good thing about modern bags is that not all roomy packs are huge. Most of them have multiple pockets or compartments which allows you to maximize the storage of all you want.

If you worry about wet seasons then a waterproof bag with a cover will help you solve your concern, especially if it has compartments bug enough to carry gadgets.
One of our most recommended commuter packs is from Cancha! Check it out below:
Cancha Bag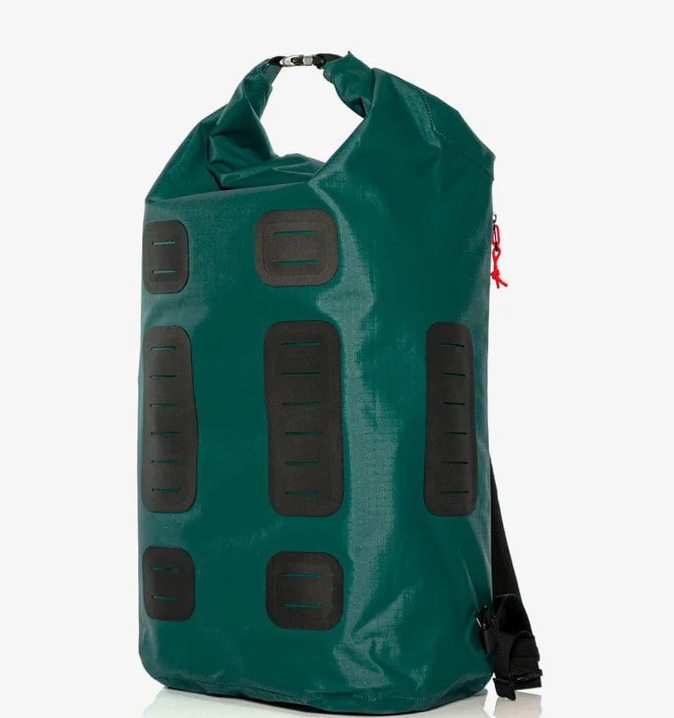 If you're looking for a travel-friendly pack, look no further as you have the Cancha Backpack! If you are an adventurist then you'll love how roomy this bag is, you'll be able to put all the essentials and extra gear you need for a planned getaway.
The Cancha Backpack comes with a dedicated laptop sleeve, a roll top construction, and an airflow backpanel so you can wear it comfortably all day. You also have the option to choose from a variety of colors that match your personality as well.
What makes it great is the build, thanks to its durable ripstop fabric it won't get easily ripped and scratched. Moreover, it is water-resistant, rain or shine you'll be able to enjoy your adventures.
Read more about this customizable travel bag: https://canchabags.com/collections/adventure/products/cancha-backpack
Cancha Sport & Adventure Bundle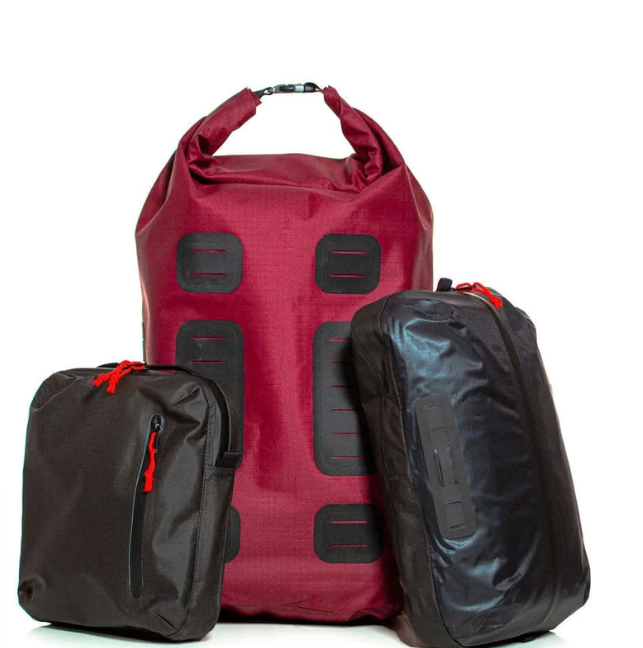 Sporty traveler? We got your back! With Cancha Sport & Adventure Bundle you'll be able to fully customize your bag for the day ahead. Whether you're en route to physical activity or just work this bundle is made for versatility and quality performance.
You can also choose your desired color to match your vibes, in addition to this, a day bag and wet-dry bag accessory are included in this package. With this bundle, be it work or leisure this killer bag combo won't disappoint you!
Moreover, there are some perfect minimalist options and roomy backpacks that are best for busy commuting professionals, like you.
Timbuk2 Lane Commuter Backpack
Best Waterproof Commuter Backpack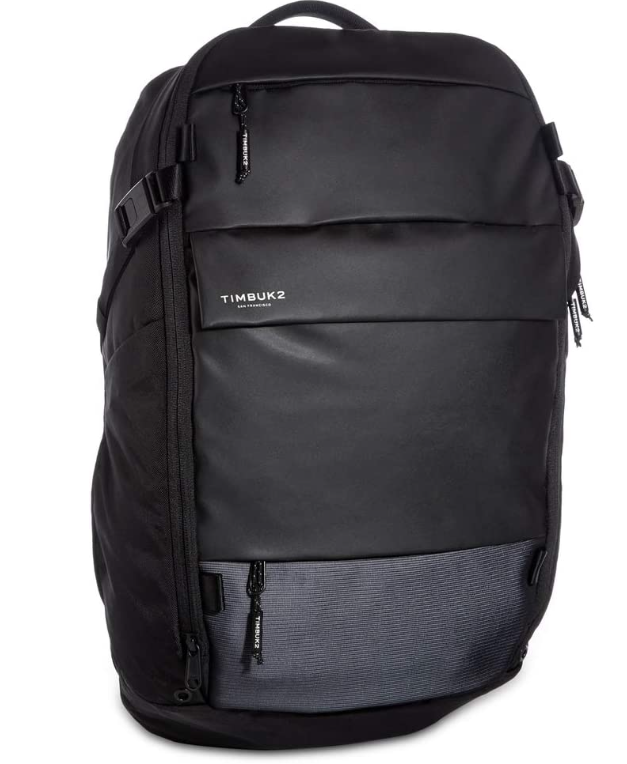 Timbuk2 Lane Commuter Backpack can withstand harsh weather thanks to its water-resistant features. Even when dark skies and rain makes it difficult for others to see you, the reflective mesh bottom will help you get seen even up to 20 feet away.
If you need a bigger main compartment, releasing the expansion strap will give you much more capacity while keeping the front pocket easy to access for your small valuables.
This is a perfect bag especially for commuters because of its oblong shape which offers the convenience of evenly balancing the weight of your stuff. Moreover, the waist straps provide extra support to help you in motion.
The padded mesh back panel ensures comfort and won't hurt your back even on long commutes. Now that you have all the deets you need, next on your checkout list must be the timbuk2 lane commuter backpack!
Thule Paramount Commuter Backpack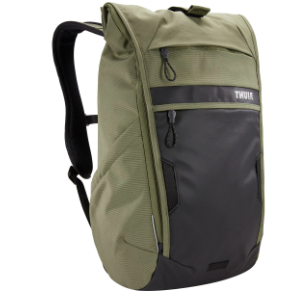 Best Bike Commuter Backpack
If you're into backpacks that you can freely access even when you're commuting through biking then, the Thule Paramount backpack is the best choice for you. Your valuables are safe, even rain cannot be absorbed inside thanks to its water-resistant nylon mesh.
It is designed also with side pockets that you can easily reach, plus shoulder straps that are placed in a fit position without hurting your shoulders when riding a bike.
While the dimensions are somewhat smaller than an average commuter bag, the main compartment with a tech sleeve that can secure tablets, and a laptop compartment that can fit up to a 15-inch laptop.
A top handle makes transporting easier, and there are plenty of added panel and compartments for all your tech essentials. A versatile bag indeed, big enough and can be used in the gym too.
Yeti Crossroads 27 Commuter Backpack
Best Laptop Backpack with water bottle pocket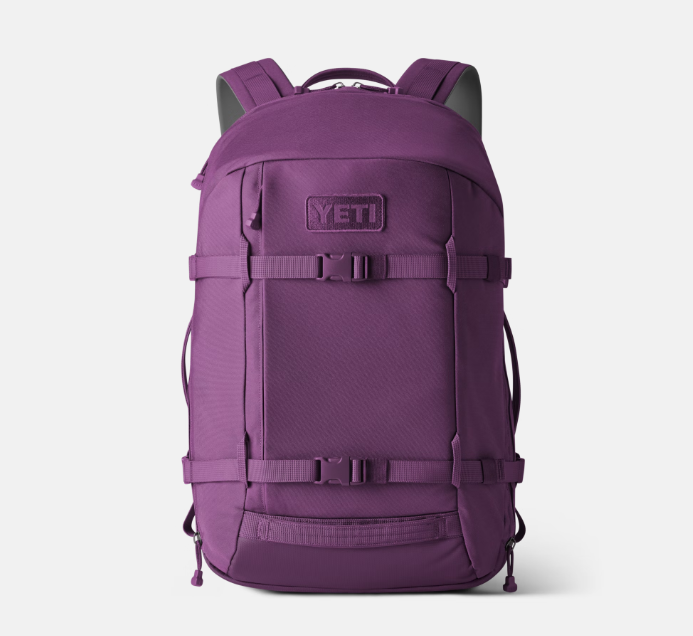 Yeti is known for its quality and durability, that's why if you're looking for a backpack that's perfect for heavy-duty use then Yeti is for you. What's great about this commuter bag is the water and abrasion-resistant feature which is important, especially when going through all crowded public transportation, plus the unpredictable weather.
Thanks to its nylon water resistant outer layer this helped in keeping your expensive tech safe from spills and rain. Moreover, it has multiple compartments and a fully padded laptop sleeve that contains pockets and slots for water bottles.
It has external pockets for your small stuff or accessories. However, some reviews have mentioned that the price is somewhat higher than other carry options on the matket. However, With its 27-liter capacity, you'll be able to bring so much extra gear, including a water bottle, laptop, clothes and more.
Swiss digital Design Circuit Commuter Backpack
Best Carrying Lane Commuter Backpack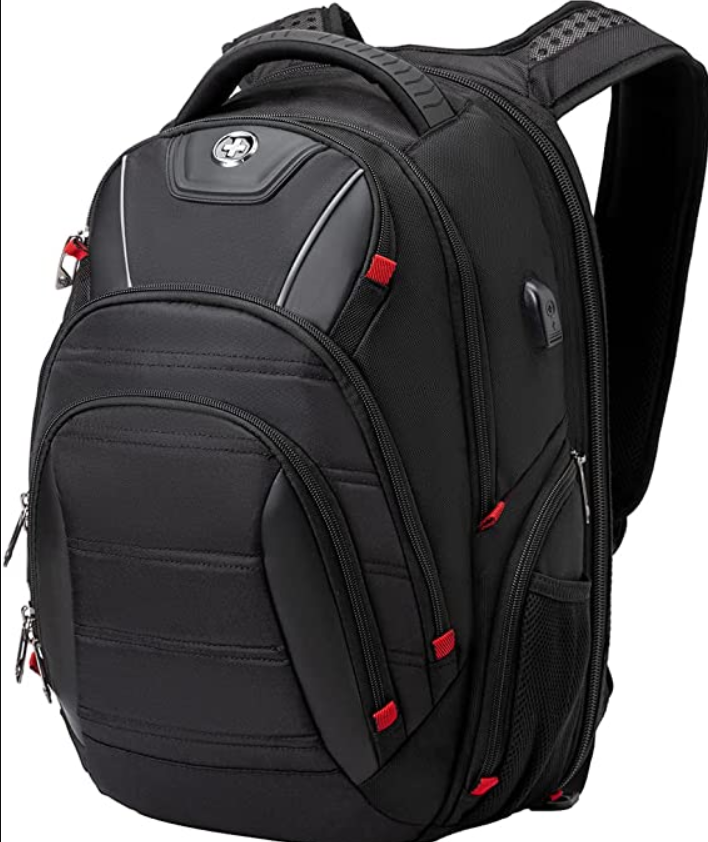 If your basis for a commuter pack is amazing reviews, then look no further with the Swiss digital backpack! Don't get fooled by its bulky look, it may be big when you look at it but it's lightweight and has lots of space for your stuff like lunch, change of clothes, gear, etc.
Now, let's review the dimensions, the main compartment can fit a laptop up to 15 inch laptop, if you are thinking about the strap, don't worry as your shoulder straps are made of soft padding.
What's more amazing about this bag is it has a built USB charging port, yes, you read that right. If you're the type to bring a portable power bank, you can connect it to a wire that transports the power to an external USB port.
In addition to that, your precious expensive gadgets are secured thanks to EVA foam that prevents impact damage, truly a helpful feature. So don't mind moving too much around in the office room or throwing your bag for a lunch break. Totally worth the price!
Matein Lunch Commuter Backpack
Best Value & Style Commuter Backpack
Affordable price? Good interior style and fabric? The search is over with Matein Lunch Backpack. This bag is great because of the integrated insulated cooler with a leakproof feature that ensures the internal safety of your gadgets.
This bag can maximize its compartment by up to 30 liters and you can separate your larger items from your small ones fairly easily. It has an air mesh-like side pocket for your water bottle too.
In addition to that, a built-in external USB charging port for your gadgets, and a price that's affordable for the utility it offers. Just don't take it deep see diving! This bag is unfortunately not water-resistant, and so it won't keep your laptop or tech gear safe when it rains.
Patagonia Atom Sling Commuter Backpack
Most Lightweight Pack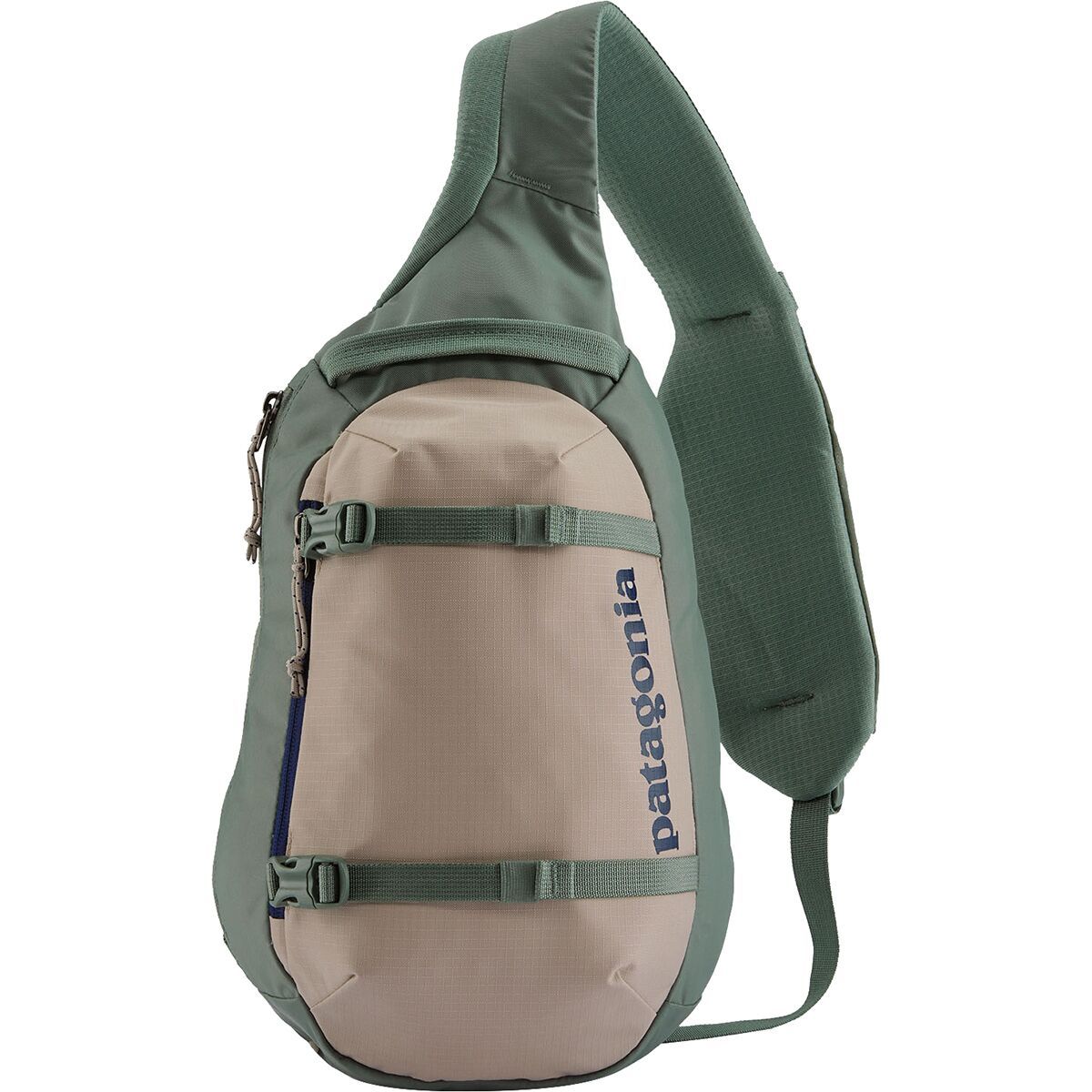 A go-to bag is also important especially if your errands are often rushed. With its small feature, it's highly portable and can fit only the important valuables you need when you're out such as tablets, phones, a change of clothes for the gym, a watch, a water bottle, and a wallet. Wear it with style, thanks to its sling bag you can easily switch it between shoulders, and will not exhaust your muscles too much because it's still light.
SeaLline Urban Pack
Best Roll Top Commuter Backpack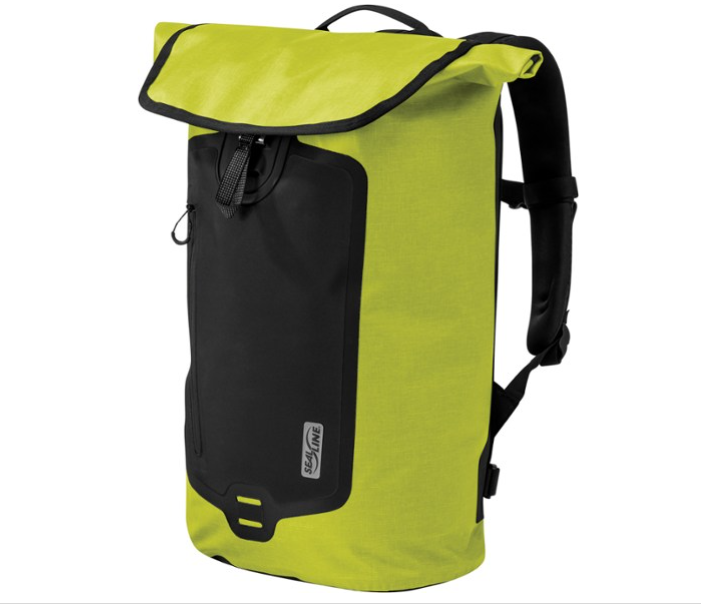 Worrying because of unpredictable weather? Worry not with the urban pack from SealLine. This backpack can withstand weather such as light to hard rain thanks to its waterproof outer coating, welded seams, and roll-top cover. Flex your way through subway lines, and commuter lanes because of its sleek and simple design with a padded waist belt which you can remove anytime to make it look minimalist.
The interior compartment has a lot of space for your change of clothes, laptop, pair of shoes, and more. Top-tier category backpack indeed (except for maybe the Cancha Backpack)!
Topo Designs Commuter Brief Case
Best Office Laptop Pack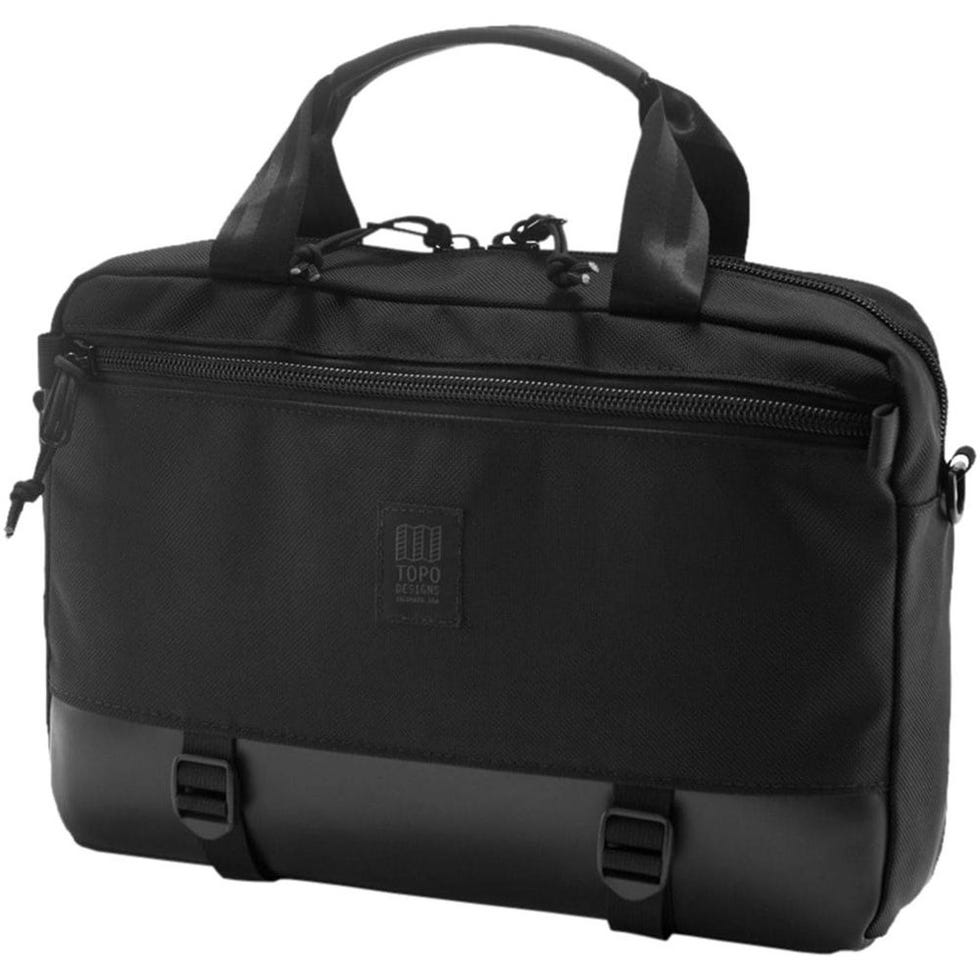 Looking for the best laptop bag for your precious computer? This 15 liter convertible bag from Topo Designs is a steal for you in the market. It has multiple carry options, a durable design, and with stylish soft padded panel and a decent amount of space.

If you want a separate room compartment for your other stuff, it has side pockets for your small accessories and belongings. This laptop bag features a high-quality Cordura and leather fabric ready to side through busy lanes. You can also carry it in multiple ways so you're not stuck with carrying it by the handles.
Cotopaxi Batac Del Pia Pack
Best Stylish Pack
You can now freely organize your gear securely with this backpack's zippered compartment, a front pocket, and mesh water bottle pockets which is helpful whenever you get thirsty on the road. It is built with durable nylon material and has an adjustable fabric strap to help you balance the weight and prevent exhausting your shoulder muscles.
Despite looking bulky, it is light and packable, it has bright colors and can be used for any purpose. Looking into the dimension it weighs about 1 pound and can accommodate up 16 liters of space. A perfect commuter backpack for everyday use, if you don't mind something a little more minimal.
Conclusion: The Best Commuter Backpacks for the Busy Professional
It is important to pick a commuter pack that fits your needs so that you can maximize the use of your bag's pros. Commuting is never easy and so is having to go to the office every day with unpredictable weather, and heavy stuff. Keep in mind that a backpack with waist strap helps to balance the load and shift part of the weight from your shoulders to your hips, relieving strain on your shoulders.
For travels on a motorcycle or bicycle, having a strap, which is detachable from some packs, is extremely convenient. Commuter packs aren't usually built with well-ventilated back panels, so opt for a breathable mesh especially if you travel a lot during the tropical season and in humid crowded areas.
Also, if you're daily routine changes, a modular backpack could be best for you. We've outlined the best customizable backpacks in our comprehemsive guide.
Comfort is the key indeed, not all bags are built the same and if you don't want to end up purchasing the expensive ones, we hope this list helped you choose the best ones from the market. Be sure to check out the warranty, as well as the reviews to make sure you choose the perfect bag.
---