Welcome!
I am Jack, the founder of Cancha. Our Blog is all about travel, adventures, and sporting experiences like no other, with some helpful guides along the way to get the most out of your favourite activities. Follow along for all our adventures.
Read our story
Our Mission
We believe in pursuing your passions and seeing more of the world, because every adventure is unique. Shop the world's most customizable travel bags, made for athletes, by athletes. 
Shop The Range
---
The Best Places to Play Tennis in London
London is home to some of the best tennis clubs in the world, with courts offering something for every type of player and at every level. Whether you're looking for somewhere quiet and peaceful in which to practice your serves or something more sociable where you can meet new friends and make business contacts, there's a club for everyone.
From public courts to private clubs with dress codes and strict membership policies, there are plenty of places where you can enjoy this popular sport. There are hundreds of tennis clubs and courts in London, but finding the right one for you can be tricky. That's why we've put together this guide to the best tennis clubs and courts in the capital.
The All England Lawn Tennis and Croquet Club, Wimbledon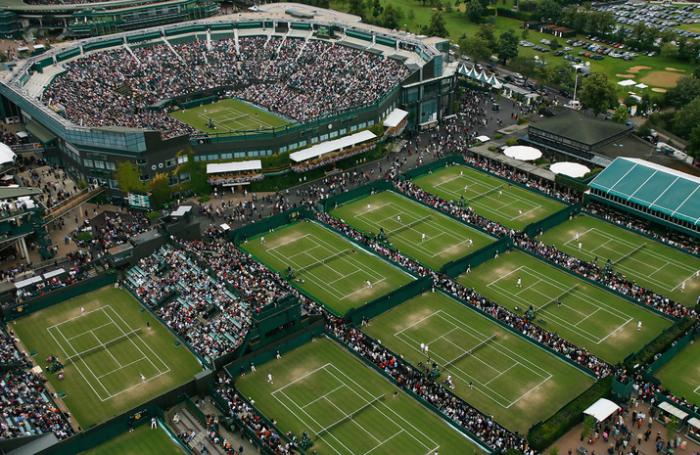 Facilities: state-of-the-art gym, croquet court, clubhouse, restaurant, sports shop
Surfaces: grass, acrylic
Membership fee: price on request
Notable members: Duchess of Cambridge, Tim Henman, Cliff Richard
Website: www.wimbledon.com
The All England Lawn Tennis Club (AELTC) is a private members' club located at Church Road, Wimbledon, in southwest London. It is best known as the venue for the Wimbledon Tennis Championships, which has been held there since 1877. (AELTC), also known as the All England Club, is a private members' club in Wimbledon, London. It has two locations: the original one on Church Road and another at Knightsbridge which opened in 2012.
The AELTC organizes the Wimbledon Championships, an annual tournament widely considered to be the most prestigious grass-court tennis event in the world. The tournament is fondly named after the London Borough in which it resides.
The Club's exclusive membership has historically been limited to male tennis players, with the exception of honorary members and females invited to join the Junior Committee. Its grounds include 22 grass courts (of which 4 are stadiums) and a pavilion.
Roehampton Club, Wandsworth

Facilities: gym, indoor and outdoor pool, wellness studios, 18-hole golf course, squash courts, croquet, clubhouse, sports shop
Surfaces: grass, synthetic grass, Poraflex® acrylic court, smash courts, mini courts Membership fee: from £850 (annual subscription)
Website: www.roehamptonclub.co.uk
Moving southwest of central London, towards Barnes and Richmond, the capital takes on a more leisurely feel, with leafy streets and quaint 19th-century homes.
The Roehampton Club, located in a hundred acres of parkland near Richmond Park, is well-known for having some of the best grass courts in the country; many tennis pros compete here in an intimate pre-Wimbledon tournament. In addition to tennis, there are numerous sporting and leisure facilities, including an 18-hole golf course.
Queens Club, West Kensington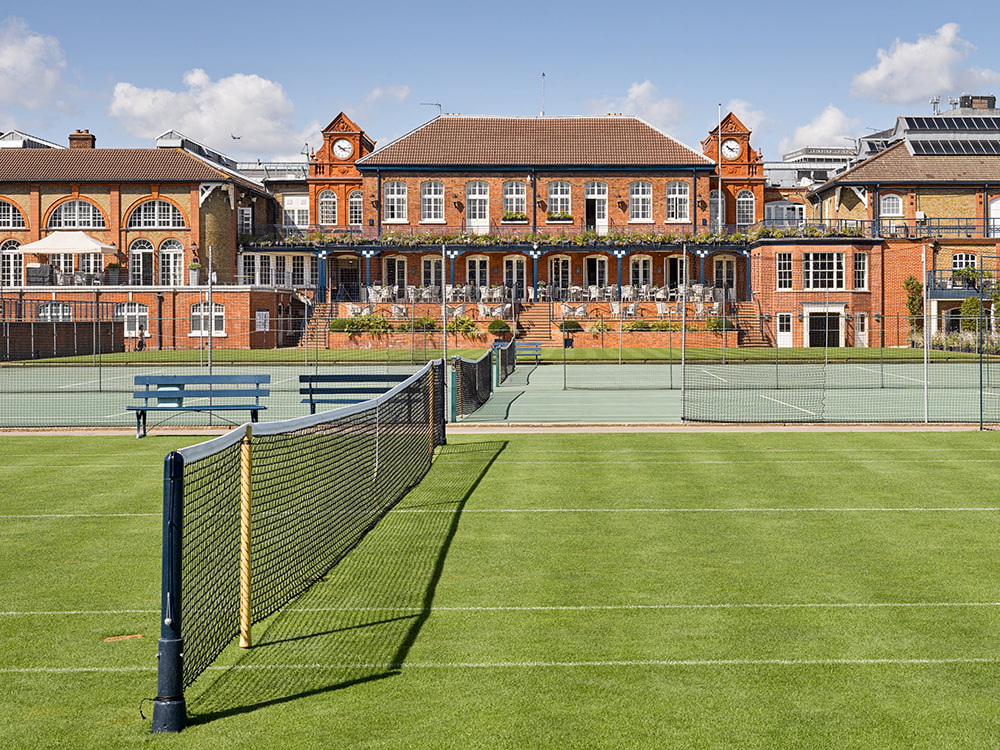 Facilities: clubhouse, restaurant, café, museum, function suites
Surfaces: grass, shale, Plexi courts, and artificial grass
Membership fee: purchase required of a redeemable share upon joining, £15,000
Dress code: tennis whites
Notable members: Andy Murray, Boris Becker, Feliciano López
Website: www.queensclub.co.uk
Andy Roddick, who dominated the Queen's Club Championships in the early 2000s, has described the Queen's Club courts as "arguably the best in the world" - some would even say better than Wimbledon.
The Queen's Club Championships, which is held the week before Wimbledon's grass-court championships, has attracted the world's best tennis players over the years, including Andy Murray and Novak Djokovic. The winners of each championship are given honorary life membership in the club, which means you could be practicing your serve alongside Boris Becker (if you can afford the membership fee, that is).
Interesting fact: Roger Federer has never played at Queen's because he was denied a wildcard to the tournament in his early days as a pro - a decision Queen's probably regrets. Membership in the club requires one to be proposed and seconded by two current members, so perhaps not the easiest way to paly tennis in London.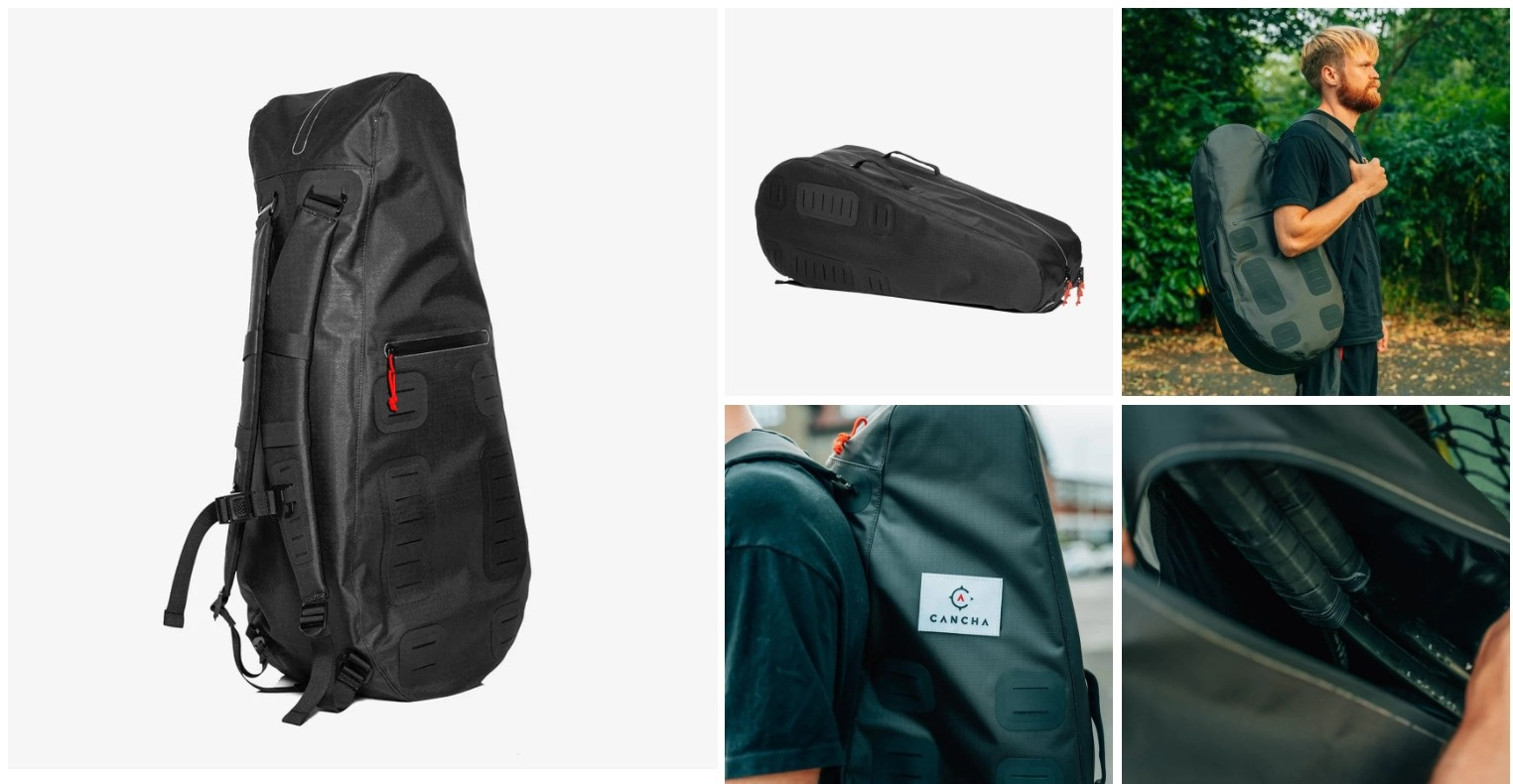 If you are planning on Joining a tennis club, a great tennis bag is a perfect match for your new tennis lifestyle. The best tennis bags make it easy to bike around London with your racquets, fit an extra pair of shoes and a change of clothes for work, and even keep the rain off when it pours (which is typical in London, by the way).

The Cancha racquet bag is ideal for storing or transporting your most important equipment—whether your favorite tennis racquets or work gear - or both at the same time! Its minimal design makes it both stylish and easy to carry by any means of transport, and its modern water-resistant material offers durability and long-lasting use in all weathers.
Check it out here.
Holland Park Lawn Tennis Club, North Kensington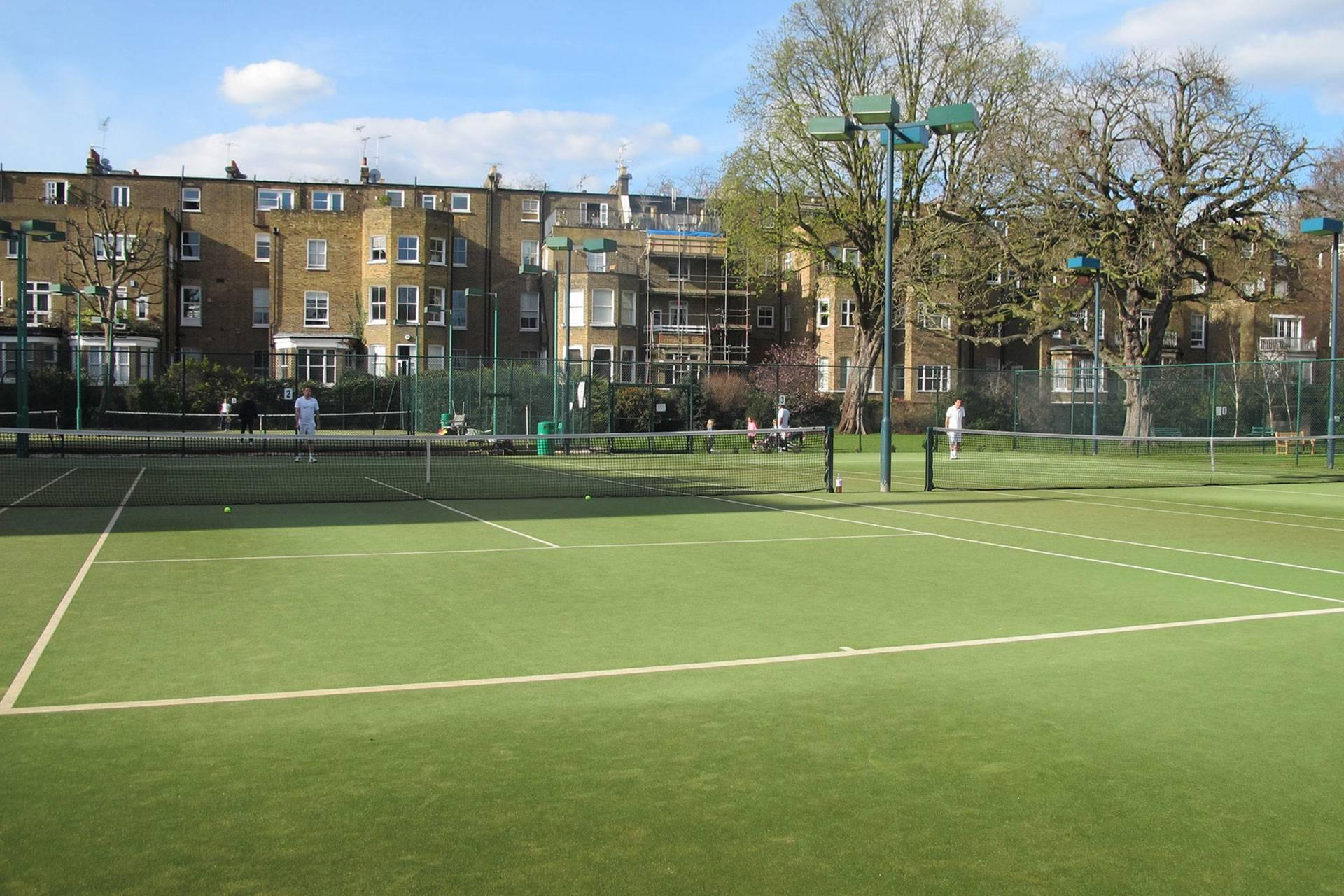 Facilities: Clubhouse
Surfaces: Grass, synthetic grass
Membership fee: Full member joining fee £1,200, plus £565 per year (discounted fees for under 28s and over 65s)
Website: www.hollandparkltc.co.uk
The Lawn Tennis Club, set on a quiet hilltop and surrounded by affluent Holland Park Avenue mansions, is a firm favorite of sporty types from Notting Hill and beyond, many of whom treat it as a second home.

Holland Park Lawn Tennis has a total of eight outdoor tennis courts in London. Five of these are all-weather (artificial grass) courts that are floodlit and open throughout the year, while the remaining three are grass courts that are open from May to September.

While they don't have any indoor courts, they do sometimes have an indoor bubble in certain months of the year. It's worth noting that the club is open seven days a week, from 9 a.m. to 11 p.m. - you can no longer blame your shaky serve on a lack of practice. Just make sure you book days in advance during the summer.
Harbour Club Chelsea – Fulham, SW6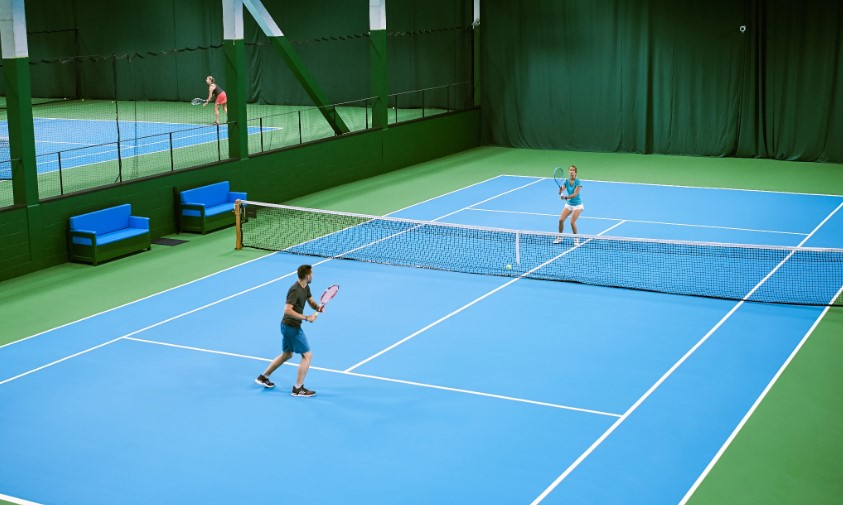 Facilities: indoor and outdoor tennis courts, indoor swimming pool, Spa, and gym.
Surfaces: grass, acrylic
Membership fee: full membership - annual £1,299 get 2 months free.
Website: www.harbourclub.com
The Harbour Club Chelsea in Fulham is a full-service fitness center, and it is included in the list because it somewhat reassembles affordable luxury. The club features 12 world-class tennis courts, a two-story state-of-the-art gym, six fitness studios, three swimming pools, and a luxurious spa.

The Harbour Club Chelsea is known for its modern design and commitment to providing members with the highest levels of service and hospitality. From group tennis sessions to individual coaching, you are bound to find a game at this club.

The Harbour Club Chelsea is the ideal destination for members seeking an exclusive experience in the city, thanks to its array of amenities (including a gym) and warm, welcoming atmosphere. It's even an lta sanctioned venue for tennis tournaments and competitions throughout the year.
Kilburn Grange Park Tennis Courts in London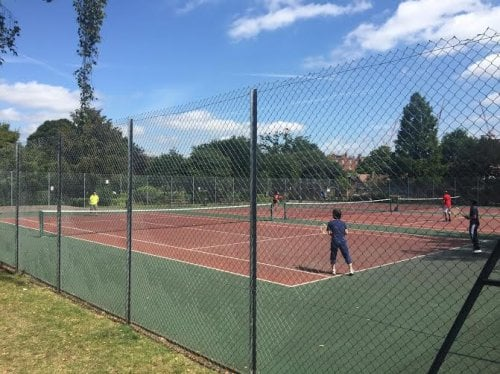 Facilities: children's playground, basketball court, outdoor gym equipment, and tennis courts
Surfaces: grass, acrylic
Prices:
- Standard charge: £9.30
- Senior citizens and children under 16: £4.95
Website: www.camdenactive.camden.gov.uk
Kilburn Grange Park has two playgrounds, an outdoor gym, and three tarmac tennis courts in addition to floodlit football and basketball courts. After registering for an account, players can book tennis courts in London up to five weeks in advance online.

While bookings are not refundable, if your game is canceled due to inclement weather, you can request credit by emailing parks@camden.gov.uk. The courts are located just off Kilburn High Road, a two-minute walk from Brondesbury Overground and a five-minute walk from Kilburn Tube. If you are looking to get a quick win over your favourite tennis buddy in London n7 9pl, give this club a try.
Campden Hill Lawn Tennis Club, North Kensington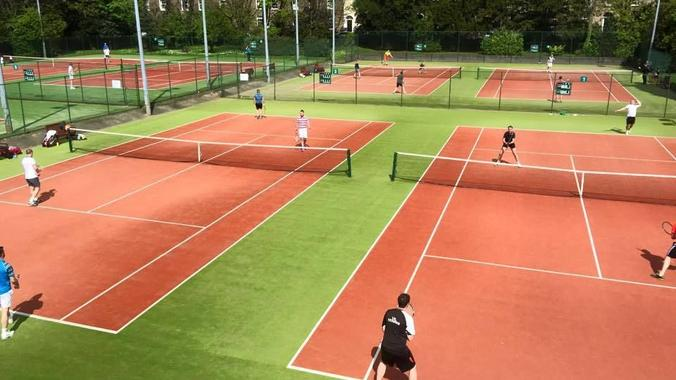 Facilities: Clubhouse
Surfaces: Grass, synthetic grass
Membership fee: Full member joining fee £1,200 + £565 per year (discounted fees for under 28s and over 65s)
Notable members: Violinist Vanessa-Mae, novelist Sebastian Faulks
Website: www.chltc.co.uk
Campden Hill Club, located in Kensington, was founded in 1884, shortly after the first Wimbledon Championships. The Club has a total of twelve courts, six of which are outdoor and six of which are indoor, as well as a practice court and a Clubhouse with a bar and restaurant. The Club is a non-profit organization that is run for the benefit of its 1,600 members.
While the membership fee is reasonable for London, there is currently a two-year waitlist unless you have the level to play matches for their first team. It certainly does have some of the best tennis courts in the area, if you manage to get in.
Golden Lane Tennis Courts, City of London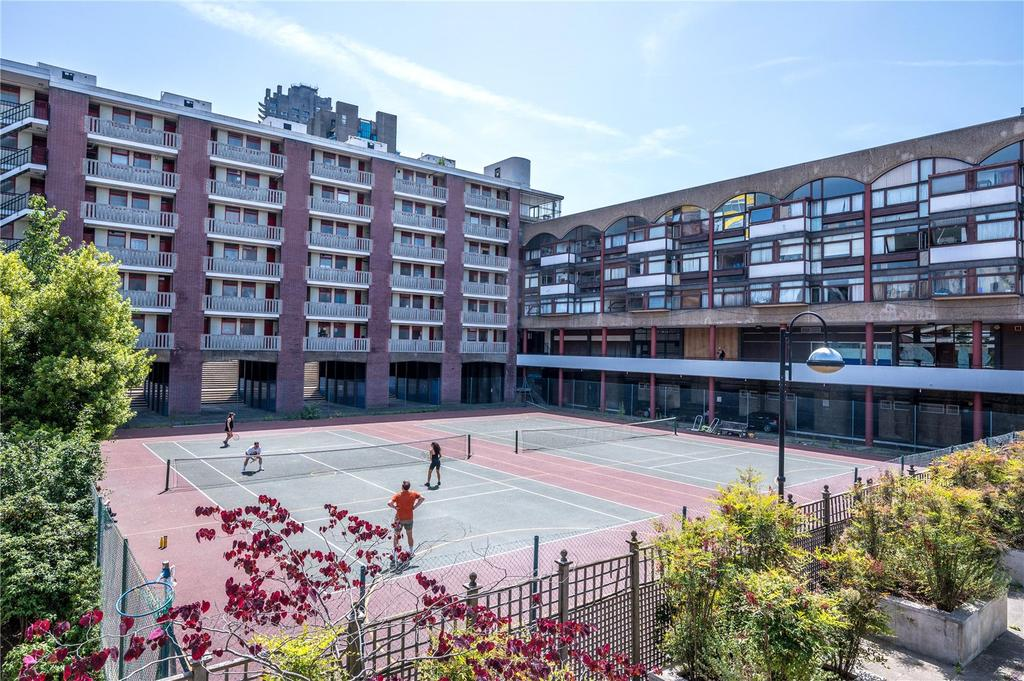 Facilities: Indoor swimming pool, gym, and fitness center
Surface: Hardcourt
Fee: From £13.60 per session
Website: www.fusion-lifestyle.com
The Golden Lane Tennis courts are located next to the Barbican Estate, a grade II listed Brutalist masterpiece, in what has to be one of Europe's most unique residential estates.
All members of the public can use the courts by booking online. You'd better hope your backhand is on point with apartment balconies overlooking the courts. These are park tennis courts, London style.
The Gardens Tennis Club, Wimbledon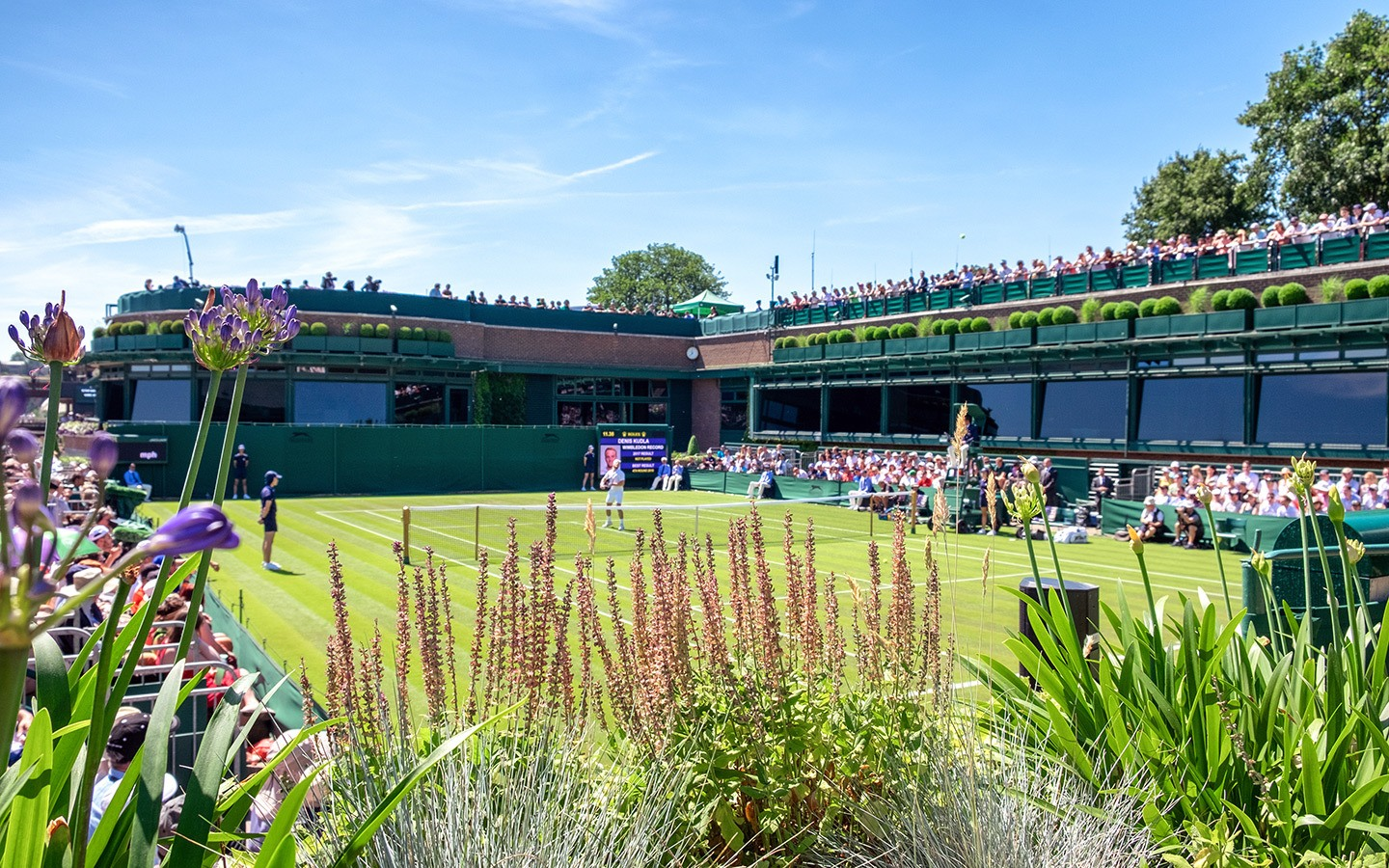 Facilities: Clubhouse
Surfaces: Artificial grass
Membership fee: £255 per year
Website: www.gardenstennis-sw19.co.uk
The Gardens Lawn Tennis Club was founded in June 1903 following a meeting of residents in the Southfields Station neighborhood. W Mitter stated (as recorded in the minute books kept by the membership secretary and still in pristine condition) that the proposed location for the tennis courts should be at the back of Southdean Gardens.

A tennis club run by residents for residents is the motto of this club, and it doesn't consider itself a tennis center where only the elitist can join. Without wasting any time, the courts were built within a year and play began. If you live nearby and want to get some valuable tennis in, give this club a try.
Other Places to Play Tennis in London
Islington Tennis Centre
The Islington Tennis Centre and Gym, located in the London Borough of Islington, is one of the busiest tennis centers in the country. While not exactly a park lawn tennis club, they do allow you to pay and play, without necessarily being a member.
Conclusion: The best tennis courts in London
So, we hope this list has provided you with an idea of some of London's most exclusive and high-end tennis clubs. Remember, if you are planning to play some serious tennis this year, be sure to get a travel-friendly tennis bag to match.
---